Armenia-Azerbaijan normalization: going bilateral and without Karabakh?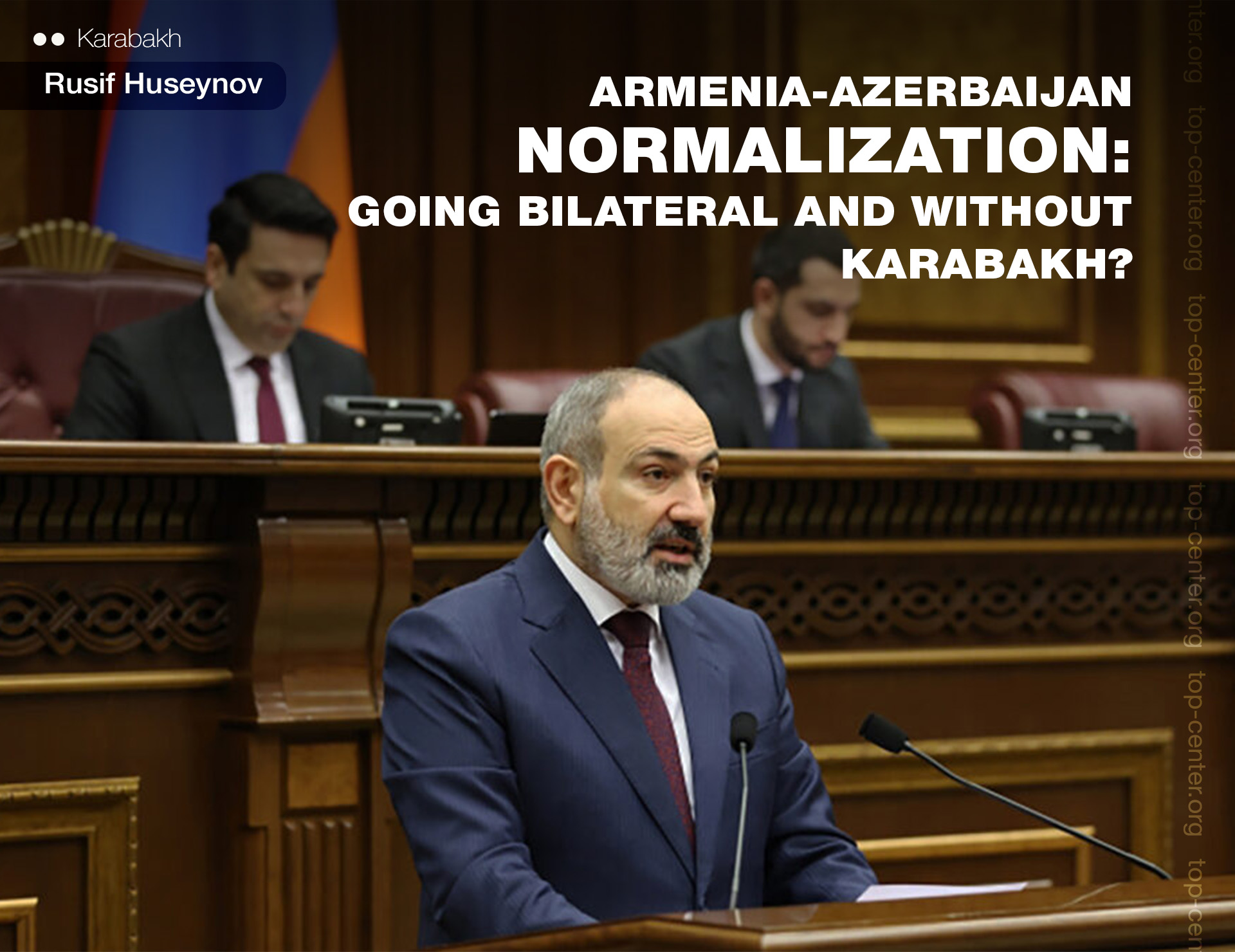 The Mid-April speeches by Prime Minister Nikol Pashinyan regarding the Armenia-Azerbaijan normalization can be considered quite historic. Some call Pashinyan`s rapprochement theses a part of the preparation of the Armenian public opinion to (a) peace (treaty) with Azerbaijan. The rhetoric now sounds quite logical an episode in a series of recent developments: Azerbaijan`s 5-point peace plan, the Brussels meeting of the Armenian and Azerbaijani leaders mediated by Charles Michel, and last but not least, Russian claims about the end of the OSCE Minsk Group as we know it. A direct telephone conversation, for the first time in 3 decades between the Armenian and Azerbaijani Foreign Ministers is another indicator that the normalization process can proceed also bilaterally. Despite the attempts of Baku and Yerevan (and to some extent, of Brussels) to sideline Russia from the process, the Kremlin stated it wanted to facilitate the process and even appointed a special envoy, Ambassador Igor Khovaev, former Russian co-chair of the Minsk Group.
Against this background, the question arises as to where does Karabakh stand in this constellation? With the end of the 2020 war and the deployment of Russian troops on the ground, the Armenian-Azerbaijani problem(s) turned into two separate and parallel processes, which prior to 2020, were pretty interconnected: the interstate relations between the Republic of Armenia and the Republic of Azerbaijan and the Karabakh question.
The self-proclaimed guarantor of Karabakh`s Armenian community until 2020, Armenia has de facto outsourced this responsibility to Russia since the end of the war and is now expressing the readiness to seek normalization with Azerbaijan. An author of the infamous 'Karabakh is Armenia' slogan, Pashinyan, in his address to the Armenian parliament on 13 April, said Armenia does not have territorial claims against Azerbaijan and the Karabakh issue is not a matter of territory but of rights.
With Armenia out of the Karabakh game, Azerbaijan has received two interlocutors instead of one: Russia and Karabakh`s Armenian community. Pashinyan's hint that Armenia no longer wants to be Russia's proxy in the South Caucasus might weaken Russia's hand vis-à-vis Azerbaijan. The peace agreement between Armenia and Azerbaijan with the latter's definite program to peacefully integrate the Karabakh Armenians would be a grave challenge to the Russian presence in the region. It should come as no surprise that the de facto entity in Karabakh responded to Pashinyan's comments on the prospects of peace with Azerbaijan by issuing a statement that it will not accept any subordination to Baku.
Apparently, after Pashinyan's 13 April speech, the ball is now in Azerbaijan`s court and we are yet to see how prepared Baku is to carry out two parallel processes. It will in some part depend on Armenia's willingness and ability to wrest herself away from Russia's grasp to normalize relations with Turkey and Azerbaijan.