Germany's new dilemma: Energy vs. Climate Security?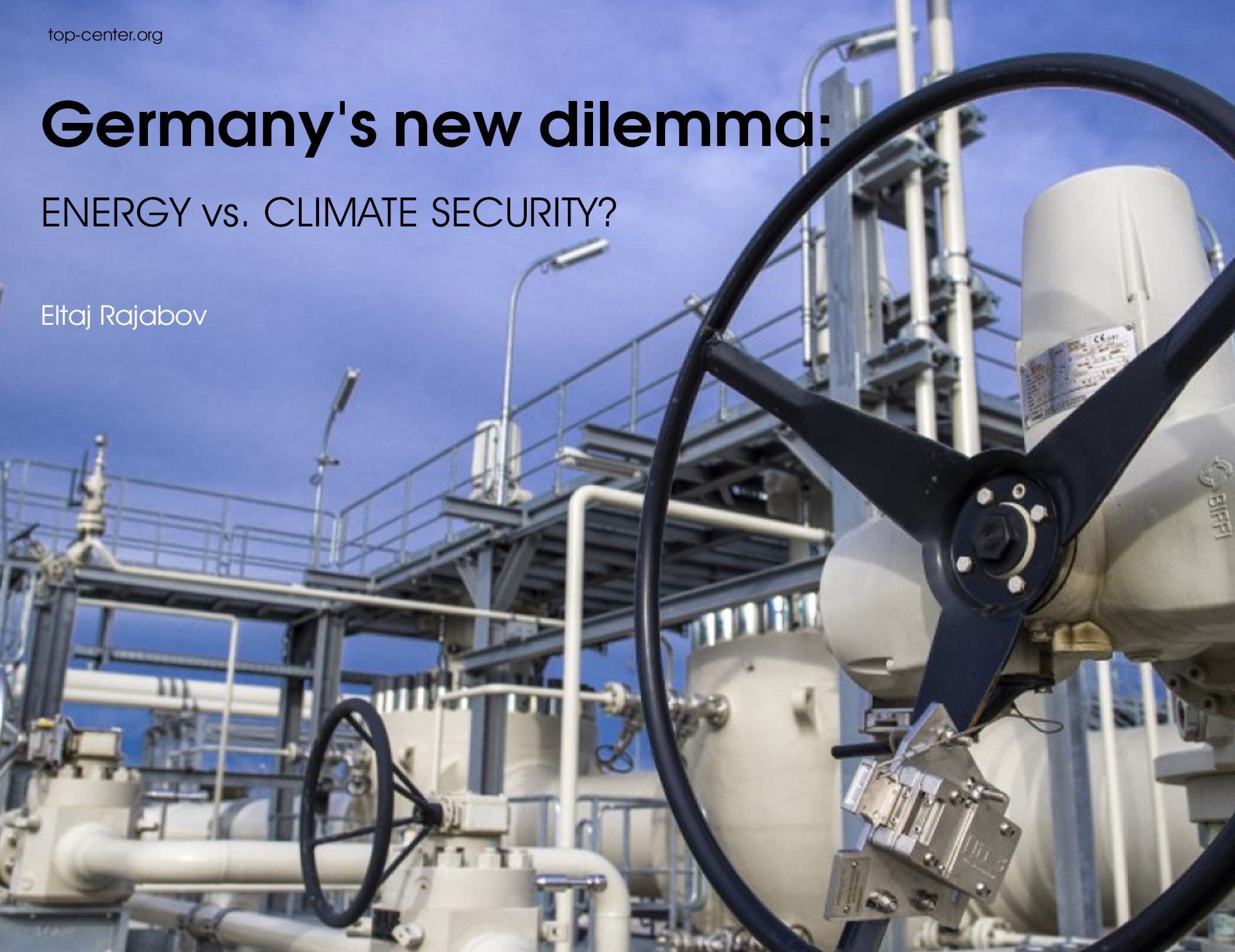 Climate change has been an important issue on the EU's agenda for the last three decades. During this period the EU has been able to bring down its carbon emissions by about 24% pledging to increase this number to 55% by 2030. In line with its climate commitments, the EU Commission came up with the Green Deal in 2019 providing member states with guidelines as to how they can further decrease their carbon emissions. In 2021 the EU took one more big step in climate change. An ambitious goal of reaching net-zero emissions, which had first been reflected in the European Green Deal, was turned into a legal obligation for the member states with the adoption of a new EU Climate Law. Despite all these commitments, a number of member states now have no choice but to increase their emissions. With the weaponization of gas by Russia, more and more EU states are turning to carbon-intensive fossil fuels, namely, coal as a means of producing energy. It should come as no surprise that Germany has been the 'leading' state in this respect as its economy has been particularly reliant on Russian gas for a long time and is now desperately seeking alternative sources for energy production.
Germany turning to increasingly more coal-fired plants is particularly problematic because even in the absence of the emissions associated with such plants the country was struggling to meet its carbon reduction goals. Indeed, in January 2022, when Germany was still mostly using a much more 'climate-friendly' energy source - gas to produce electricity, Minister of Economic Affairs and Climate Action, Robert Habeck predicted that Germany would miss its climate goals for 2022 and 2023 and that the country would have to make up for these missed targets by radically increasing the pace at which emissions would be reduced for the next years. Now that gas is being replaced with coal in electricity production, Germany emits more CO2 rather than dropping its carbon emissions. On a positive note, the use of coal is depicted as a temporary measure by the German government, which still aims to phase out all the coal plants by 2030. Despite being a temporary measure, it still significantly decreases the chances of Germany meeting its climate goals at least in the short term.
Even if one turns a blind eye to the German government's controversial decision to use more coal plants, how the government deals with the other aspects of the energy crisis still indicates that the economy will remain dependent on fossil fuels in the long run. Germany is currently building a number of LNG terminals in an attempt to replace Russian gas with liquid gas purchased from other oil-exporting countries such as the US and Qatar. This in itself appears to be the appropriate measure considering that renewable energy sources, however expeditiously they might be built up, would come nowhere near to replacing gas as a source of energy within a couple of years. In addition, this measure is compatible with the Federal Climate Change Act as these LNG terminals can be used to import green hydrogen instead of liquified gas in the future.
However, this comes with the catch: LNG terminals are allowed to be utilized to import gas by 31 December 2043, after which they must either cease their operations or switch to green hydrogen imports. This might be a grave policy mistake as it gives future governments leeway as to which energy source they are going to rely on. Given that gas will remain overpriced in the future, Germany might be keen to switch to green hydrogen far before the 'deadline of 2043'. It is, however, highly doubtful that gas prices will remain at their current levels, once the energy crisis has subsided. Without the 'incentive' of high gas prices, future governments might choose to stick to affordable fossil fuel options such as liquified gas far longer than necessary, which under the LNG Acceleration Act has been made legally possible until the end of 2043. The current German government could have used this unique opportunity to create a 'lock-in' effect and set Germany up for transitioning to a green economy much sooner. Instead, Germany's Traffic Light Coalition, which Greens are a part of, chose to leave this matter open for future governments.
To add to all these concerns, liquified gas which is supposed to replace Russian pipeline gas in Germany has a far more negative impact on the environment than its counterpart. Not only is its production and transportation associated with far greater carbon emissions. But also its production in the US involves the use of the environmentally controversial fracking method, which in fact is prohibited in Germany. With Russia ceasing its gas exports to Germany, the country has now been left with no choice but to import liquified gas, even though this is a much costlier option (both environmentally and financially).
On the bright side, Russia's weaponization of natural gas has driven the German government to increase its commitment to renewable energy sources. With the passing of the Easter Package, the government aims to speed up the development of renewable energies by three times and to obtain its electricity solely from renewables by 2035. Furthermore, the German government recently approved the Onshore Wind Energy Act which is supposed to increase the land allocated for wind power plants by 2 percent until 2023 and thus facilitate the expansion of renewables. A recent study takes these positive developments in the field of renewables into account and concludes that Germany is going to be able to hit its Paris climate targets (even perform beyond those) by 2035 despite the increased use of coal in the short run.
As commendable as the above-mentioned developments might be, it remains to be seen whether the German government will actually push through with these expensive renewable energy projects, once the global energy market has stabilized. Even if Germany manages to achieve its ambitious goals in the electricity sector, one should still be cautiously optimistic about the overall prospect of climate neutrality in the country. The transition to a green economy in Germany will remain incomplete unless the share of natural gas in the industry (31,2 %) and households (41,2 %) shrinks in parallel.