Zelensky`s first year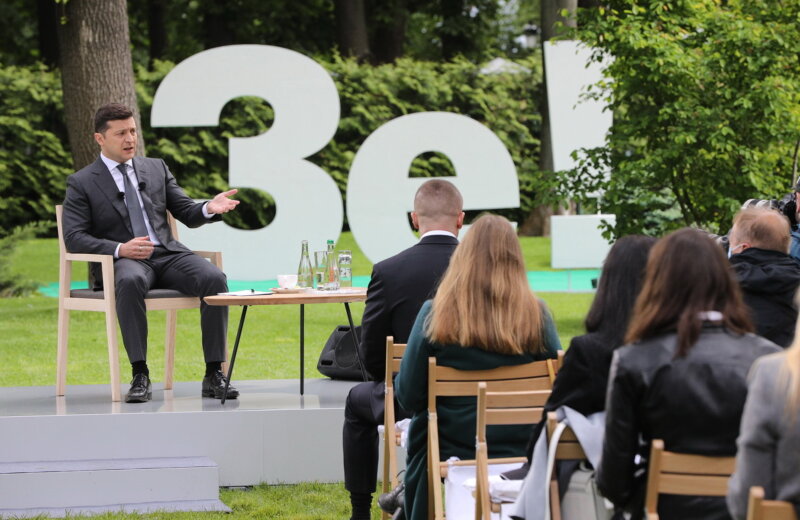 Photo: President Volodymyr Zelensky gives a press conference about his first year in office in Kyiv on May 20, 2020. Kostyantyn Chernichkin
After a year in office, Ukrainian president Volodymyr Zelensky has received a number of assessments, mostly harsh, of his leadership. At the same time, recent opinion polls in Ukraine show first, that he remains popular, and second, that he is highly rated compared to previous presidents of Ukraine. What is one to make of these results?
Zelensky is regarded much more highly by Ukrainians inside the country than those outside it, including emigres as well as people of Ukrainian ancestry. That observation may indicate that Diaspora Ukrainians are less cognizant of what Ukraine wants and needs or that the president's main concern has been domestic rather than foreign policy. It may also denote a tendency outside Ukraine to misread signals: the unpopularity of former president Petro Poroshenko by 2019 is a case in point. The price of bread and wages are more important than negotiations with Vladimir Putin; rent prices matter more than Memory Laws.
Ukraine has had a turbulent period of independence that has seen six presidents in office, starting with the very brief period of Leonid Kravchuk. Over this period, it has dealt with territorial issues, economic decline, a truculent and demanding neighbor, and high levels of corruption. It has experimented with foreign-born Cabinet ministers, decentralization, de-Communization (now virtually complete), constitutional changes and reforms, and armed formations that answer to no laws. It has moved toward the European Union and away from Russia, toward democracy and away from authoritarianism. It has suffered territorial losses and foreign invasion, receiving sympathy and materiel aid from the West, but without any real commitment to maintaining its territorial integrity.
Bringing in a complete outsider, a comedian with no political experience was always going to be a gamble. Why would Zelensky succeed where other, long-time political actors, have failed? The simple truth is that he couldn't and cannot. His promises required quick returns, and when they did not succeed, he changed personnel, fired his Prime Minister, established a new Cabinet. Servant of the People in Parliament is not monolithic, it is subject to factionalism and changing alliances.
Ukrainians have learned to be realists. The country is not in NATO. There will not be an international war to regain Crimea because there is no support for it. There is little support within NATO for Ukrainian membership. The Western military contingents that train Ukrainian soldiers are not in the Donbas, they are in the far west or Latvia. The impeachment of Donald J. Trump also centered on Ukraine, much to the chagrin of the new president who was anxious not to offend his most powerful Western ally.
Thus, Zelensky opted for dialogue, with Putin, and with France and Germany, resurrecting the Minsk Accords and the Steinmeier Formula. To date, its success has been limited to exchanges of prisoners with the renegade regimes of the east. But it has not cost him his popular support.
In the meantime, Ukraine's strategic position has deteriorated. The Azov Sea is now a Russian military lake; Crimea an armed camp. Ships sailing from the port of Odesa can no longer carry cargo to Berdiansk in Zaporizhzhia Region without permission from the Russians. In Donbas, the DNR and LNR clamor for recognition after more than five years of existence. It would be difficult to reintegrate them without making some sort of deal with the rebels. Russia does not want them but nor does it want to see their disappearance. A weak Ukraine is an asset to Moscow.
Zelensky has not removed corruption. Controversial ministers like Arsen Avakov, Minister of Internal Affairs, are still in office, oligarchs remain influential, and some protest, loudly, in the streets. In mid-May, Parliament passed the so-called "anti [Ihor] Kolomoisky Bill," to prevent nationalized banks from being returned to their former owners, the most visible case being that of Kolomoisky's former PrivatBank. But Kolomoisky remains active in Ukraine. Moreover, the choice of Mikheil Saakashvili, the nemesis of former president Petro Poroshenko, to lead the National Reform Council, has also raised some eyebrows given the former Georgian president's irascibility.
But Ukrainians are willing to wait, to give him more time, not least because of the impact of a global pandemic that could result in a 6-7% decline in GDP in 2020, hoping that the future will look better. Around 57% trust him, compared to only 25% for Speaker of Parliament Dmytro Razumkov, and just 14% for new Prime Minister Denys Shmyhal. A rating poll indicates a third of the population rate his performance as excellent or good, and a further 40% "satisfactory." These are astonishing statistics for a year of disappointment; the president retains popularity whereas his appointees elicit doubt and concern.
When respondents in Ukraine assess past presidents, only Leonid Kuchma (20%) ranks more highly today than Zelensky (16%). There is a certain absurdity about such reverence. By his second term, Kuchma was seen as the impediment to reform, and suspected of murdering a prominent opposition journalist. He overtly colluded with Putin to have Viktor Yanukovych elected as his successor. He was responsible, more than any other single figure, for provoking the uprising known as the Orange Revolution that followed the doctored election results. Moreover, he initiated the formation of what Katya Gorchinskaya terms "financial-industrial groups" that consolidated the power of chosen oligarchs.
Nevertheless, he is perceived today as a strong president and one who ensured the unity of the country. In 1997, he signed a Treaty of Friendship and Cooperation with Russia that ended discord over the division of the Black Sea Fleet and the status of Sevastopol. It resolved disputes over Crimea with Russia for the next seventeen years. Kuchma, more than he is sometimes credited, also created a national narrative around the Holodomor, while pursuing a subtle foreign policy of engagement with both the West and Russia. His style, essentially, was managerial, but authoritarian. He remains the only president to have served a second term.
His successor, Viktor Yushchenko, ranks last of all Ukrainian presidents at 6%, below even the disgraced Yanukovych (9%). His time in office—2005-2010—is seen today as one of failure, both economic and political, in-fighting, corruption, and a president who spent more time abroad than at home where he was needed, seeking support for recognition of the 1933 Famine as Genocide, or recognizing wartime nationalists as heroes of Ukraine. Ultimately, for the population, these were and remain side issues to national development and prosperity and stability. Further, the whole purpose of the Orange Revolution was undermined when Yushchenko broke with Yulia Tymoshenko and appointed Yanukovych as Prime Minister (2006-2007).
There is another possibility to consider when assessing Zelensky's popularity, namely a growing disillusionment with the West, and not only with the Trump-Giuliani debacle. Zelensky, like his predecessors, must assess what the Western countries can bring to his country. He can only have been disappointed by the returns to date: Russia's return to the Council of Europe; Trump's repeated hostile comments about Ukraine as well as perceiving Crimea as Russian; and not least the support for Russia from France and Italy, among others. As a model of democracy, the European Union seems to be failing, as Hungary under Orban's rule by emergency powers has demonstrated.
As any inexperienced but intelligent leader would surmise, Ukraine cannot rely on outside support, and it must determine its future accordingly. At present, most Ukrainians are prepared to stay the course with Zelensky.