Amid the looming energy crisis in Europe, Azerbaijan shines as a reliable partner, again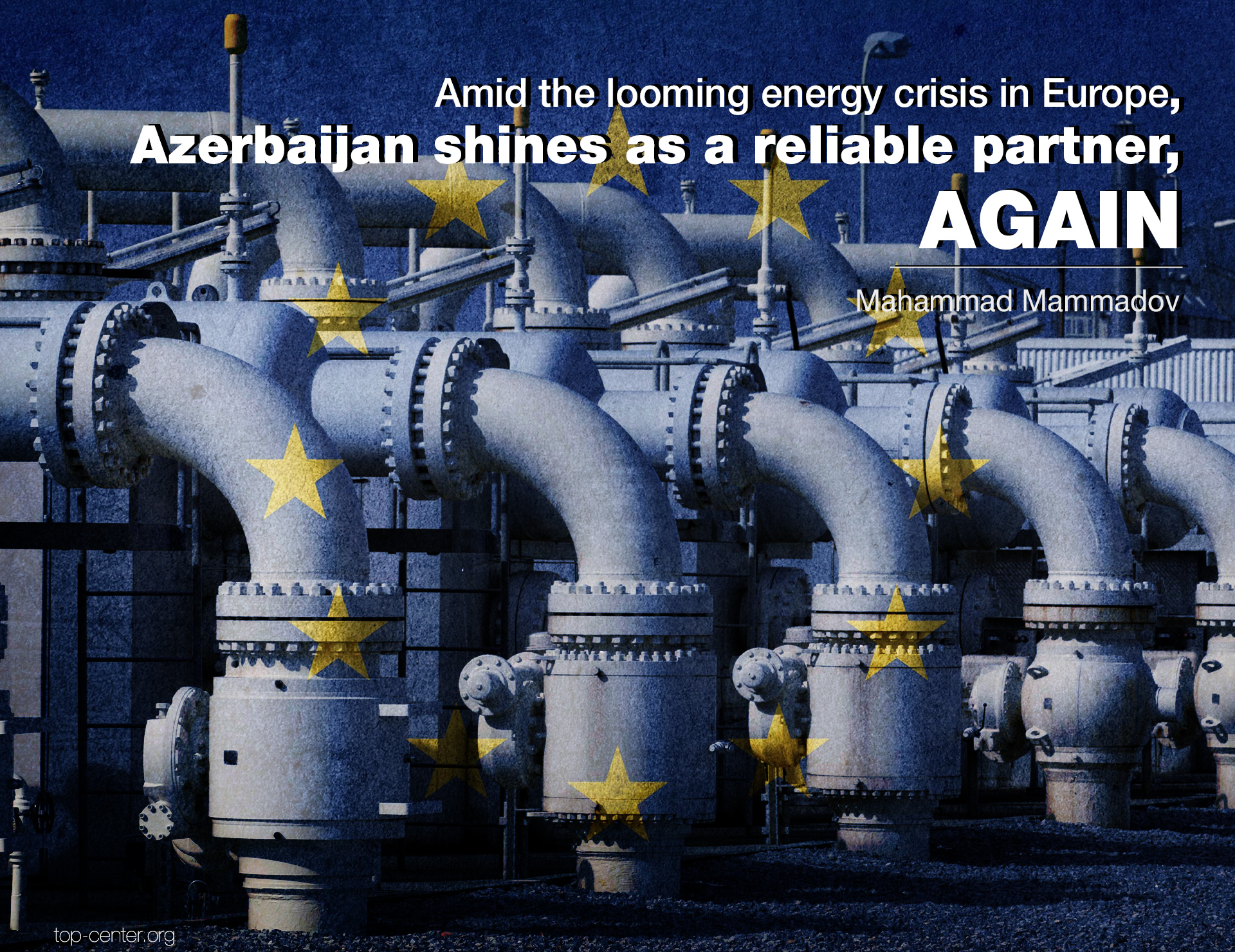 Recent developments in Russia-West relations - especially, Moscow's open claim to spheres of influence in the post-Soviet space and the West's refusal to accept it - indicate uncertainty has returned as the most potent geo-strategic dynamic in European politics, pushing the EU to look for reliable energy suppliers for emergency gas deliveries in case Russia halts exports to Europe as a punitive measure against Ukraine-related sanctions. On January 30, EU foreign policy chief Joseph Borrell said Brussels was working closely with partners such as the U.S., Qatar, and Azerbaijan to become more resilient to possible supply shocks emanating from Russia. On February 4, EU Commissioner for Neighbourhood and Enlargement Oliver Varhelyi and Commissioner for Energy Kadri Simson visited Baku to discuss possible increase in Azerbaijan's gas deliveries to Europe.
Attending the 8th Southern Gas Corridor Advisory Council meeting in Baku, Commissioner Simson hailed the SGC as a "continuing success story", contributing to the provision of reliable, competitive, and affordable gas supplies to energy markets in Georgia, Turkey, and Europe. Commissioner Varhelyi's discussions with Azerbaijani officials encompassed the implementation of the EU's Economic and Investment Plan envisioning 5 flagship initiatives for Azerbaijan and prospects of increased gas volumes to the EU.
Azerbaijan started direct gas supplies to the EU in December 2020. The Trans-Adriatic Pipeline as part of the SGC brought more than 8 billion cubic metres of natural gas from Azerbaijan's Shah Deniz-2 field in the Caspian Sea to Italy, Greece, and Bulgaria in 2021. Baku is planning to export up to 20 billion cubic metres of gas in 2022 and more than 7 billion cubic metres of that amount will be sold to Italy. Current talks between the EU and Azerbaijan revolve around increasing the number of gas deliveries via SGC from the current 10 billion cubic metres to about 20 billion cubic metres that would extend its reach to new markets in Western Balkans. TAP's possible connection to Ionian Adriatic Pipeline in Albania has long been in the cards and Azerbaijan's state oil company SOCAR signed a Memorandum of Understanding with Croatia, Bosnia and Herzegovina, Montenegro, and Albania to facilitate connections to key gas infrastructure in the region. On the one hand, additional gas for these countries could contribute to the EU-supported decarbonization process and strengthen Azerbaijan's image in the West as a reliable partner in the transition to the green economy. According to Commissioner Varhelyi, Azerbaijani gas can help reduce emissions by at least 55%, phasing out coal completely from the energy mix of the Western Balkans. On the other hand, Azerbaijan's gas supplies to these countries are expected to decrease their sole dependence on Russia and bolster its position in European gas markets. Yes, it will not help replace Russia as the dominant player in these markets but will surely offer a meaningful alternative to these countries to better ward off potential crises. At the same time, the Azerbaijani side has yet to declare how it will find additional gas to meet the increased demand from the EU. Successful completion of renewable energy projects in different parts of the country is expected to help meet growing domestic industrial demand and gasify the liberated territories after the Second Karabakh War, sparing Azerbaijan hundreds of millions of cubic metres of gas to be exported to Europe. Baku's green energy strategy is totally in line with the EU efforts to scale up investments in the sustainable energy sector for the Eastern Partnership countries within the framework of the recently-declared Economic and Investment Plan.
Although energy cooperation was the central theme of discussions, the two sides also covered crucial policy areas not less important for the future of EU-Azerbaijan relations. Firstly, in his joint press conference with Azerbaijan's Foreign Minister Jeyhun Bayramov, Commissioner Varhelyi declared EU plans to mobilise at least 2 billion Euros of investment in Azerbaijan.
It should be noted that the unevenness of the EU financial support to Armenia (2.6 billion Euros) and Azerbaijan (140 million Euros) within the framework of the Economic and Investment Plan did not go over well in Baku in recent months where there was already some disgruntlement over EU's lack of willingness to participate in the reconstruction process in liberated territories. In his interview with the local TVs on January 12, President Aliyev called it "injustice" as there had been not a single building destroyed in Armenia during the war while Azerbaijani territory (Karabakh) the size of Lebanon had been completely ravaged.
He went even further to claim that not only will Azerbaijan not remain silent, it will have a "huge negative impact on EU-Azerbaijan relations". In this context, EU's 2 billion Euros financial package for Azerbaijan shows Baku's grievances related to this issue did not go unnoticed in Brussels and the looming energy crisis in Europe played a part in this policy correction too. The new investment package will help bring green technologies to Azerbaijan that could also increase the latter's gas export potential in the future.
Secondly, the EU side on many occasions reiterated its readiness to take part in the normalization of relations between Armenia and Azerbaijan in the post-Karabakh War period and Azerbaijan welcomes this initiative. Commissioner Varhelyi said Brussels is willing to provide technical assistance for border delimitation/demarcation and financial support to further reconciliation. In the trilateral meeting of Armenian, Azerbaijani, and EU leaders in Brussels on December 15, the EU declared its intention to launch an economic advisory platform to contribute to peaceful coexistence in the region, with an emphasis on development of rail and road connections between the two countries. Azerbaijani leadership is openly calling out the co-chairs of currently-defunct OSCE Minsk Group - France and the United States - about their pro-Armenia approach and the EU as a just mediator is expected to fill certain gaps in this regard and play a positive role in the process. The virtual meeting of Azerbaijani President Ilham Aliyev, Armenia's Prime Minister Nikol Pashinyan, EU President Charles Michel, and French President Emmanuel Macron (as chair of the EU Council) on February 4 to discuss the normalization process further indicate the sides' commitment to peace and stability in the region that also provide Armenia and Azerbaijan an alternative platform to decrease Russia's monopolistic role in the ongoing negotiations.
All in all, the deepening divide between Russia and the West will surely place stark choices before the EU and Azerbaijan that makes the two natural partners and pushes them to seek alternative cooperation frameworks to guarantee their strategic autonomy in a restrictive geopolitical environment. Both Baku and Brussels hope closer cooperation on energy issues will gradually spill over to other policy areas and bolster their resilience vis-a-vis external shocks in the foreseeable future.