The September clashes: what is on the ground?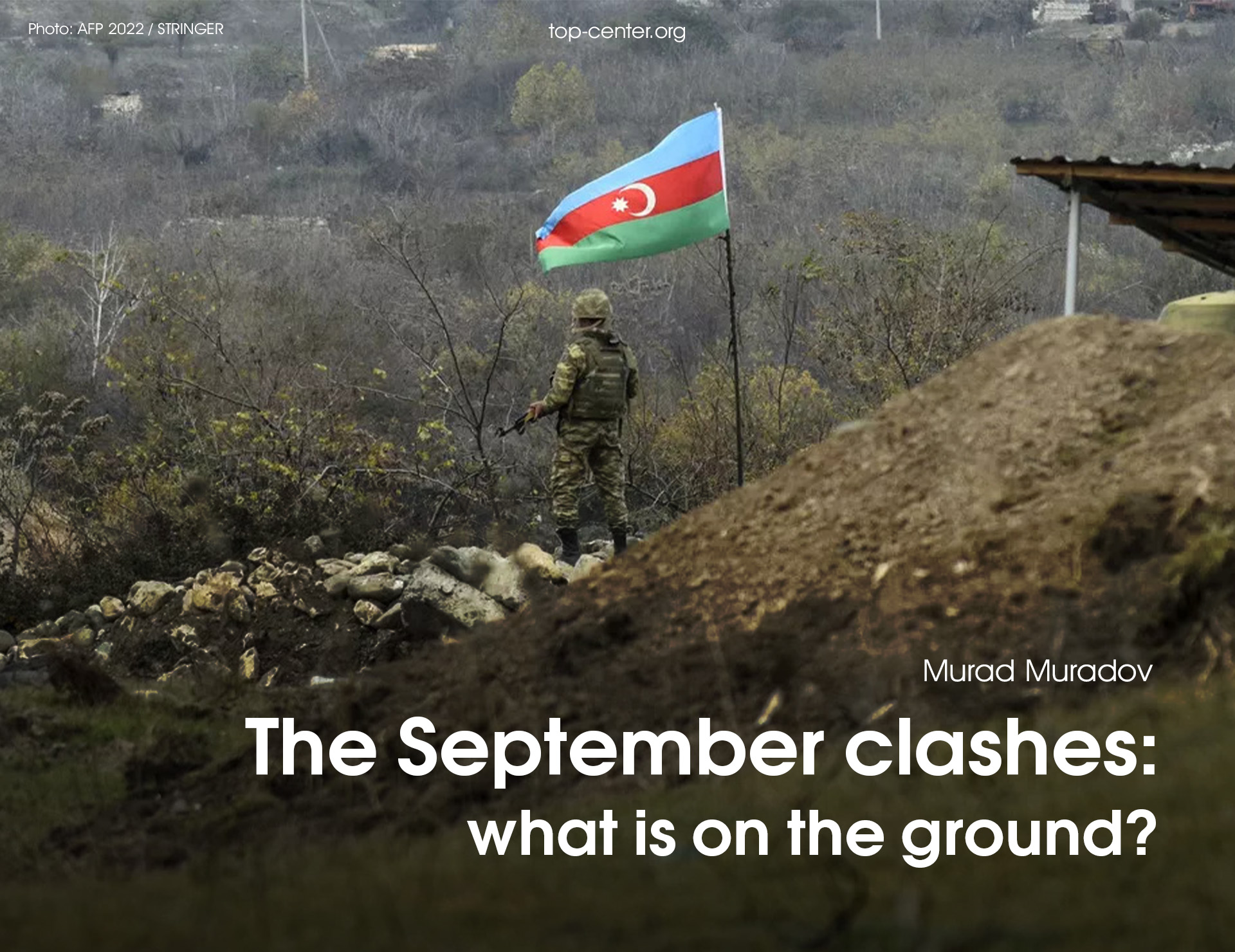 While it is difficult yet to provide a comprehensive assessment of the unprecedented escalation that happened during the night of 12-13 September between Azerbaijan and Armenia, we can for now specify the following theses:
1. Armenian Prime Minister Pashinyan most probably has been trying to "muddle through" and make the negotiation process fail by attaching too many preconditions unacceptable for Azerbaijan. It's hardly a coincidence that after almost any high-level meeting declared to be positive or even a breakthrough, some escalation happens and the situation starts to deteriorate again. Pashinyan's tactic consists of recognizing the principles put forward by Azerbaijan and claim the inevitability of peace but later making statements and steps inconsistent with the peaceful intentions. For example, while recognizing the territorial integrity of Azerbaijan he has always tried to do it in a way that leaves the question of Karabakh open. He also failed to comply with Baku's crucial condition of withdrawing all the Armenian military units from Karabakh in good faith; while there is no official conscription from Armenia any more, there are plenty of "volunteers" from Armenia serving in the so-called "Karabakh armed forces", along with weapons of Armenian provenance. However, he carefully refrains from openly hostile gestures, probably in order to depict Azerbaijan as aggressive and deny Armenia's role in escalations of violence. For Baku, it's crucial that there is real progress on all the elements of the normalization process, including border demarcation, demilitarization of Karabakh, opening of communications and concluding a formal treaty. Baku fears- and not unreasonably- that Yerevan may try to bury the peace process under endless excuses and wait until geopolitical environment shifts in its favour so that it can insist on conditions better for Armenia than those possible now. In his interview to Civilnet, Armenian expert A. Isgandaryan de-facto confirmed these suspicions, saying that "by committing these acts, Azerbaijan wants to enforce a peace treaty on Armenia"- de facto implying that Yerevan doesn't want to conclude this treaty at all. Of course, this scenario is an absolute red line for Azerbaijan, and we can interpret increasingly harsher responses from Baku as clear messages about it.
2. It is quite possible that Pashinyan, as both his government and the considerable chunk of the Armenian society are clearly unhappy with Russian policy towards Armenia and Karabakh, tries to get Western peacekeepers to the frontline region. As neither Brussels nor Washington seems to be willing to undertake a risky and challenging mission in the region, Yerevan may believe that his only hope lies in escalating the conflict to the point that there is a visible threat to the territory of Armenia proper and civil losses while Russia cannot physically boost its presence in Armenia being stuck in Ukraine. For Armenia, this might be a chance to receive a new security umbrella and force Baku to compromise under the pressure from the West and /or probably Iran. The "Iranian" version also merits consideration: after a very harsh summer, Iranian pressure on Azerbaijan has significantly receded following the signing of the North-South corridor agreement and Yerevan may have wished to provoke Azerbaijan into taking some positions within Armenian territory so that anti-Azerbaijani hardliners in Tehran can claim its red lines have been crossed.
3. Russia, facing gruelling loss of prestige from Ukrainian blunder and falling capacity to act, might try to punish countries such as Azerbaijan or Kazakhstan which, while remaining on friendly terms with Moscow, try to strengthen their strategic ties to the West. While Moscow right now can hardly be involved in the day-to-day decisions of Armenian government or armed forces, it may actively nurture Pashinyan's illusions hoping that the violence spiral would spoil Azerbaijan's image in the Western countries and spoil Baku's strategy of raising its role as the crucial gas supplier for Southern Europe; while it looks hardly willing to defend its traditional client Armenia, Russia may hope for an overall chaotization of the region as the best guarantee against its rapprochement with the West. On its part, Baku, if this scenario is true, might have felt compelled to act this way because Moscow is probably at its low point in the Ukraine war right now and it can be the perfect moment to make the government in Yerevan realize it must speak one-on-one.