Support from the far right is far from right… for Armenia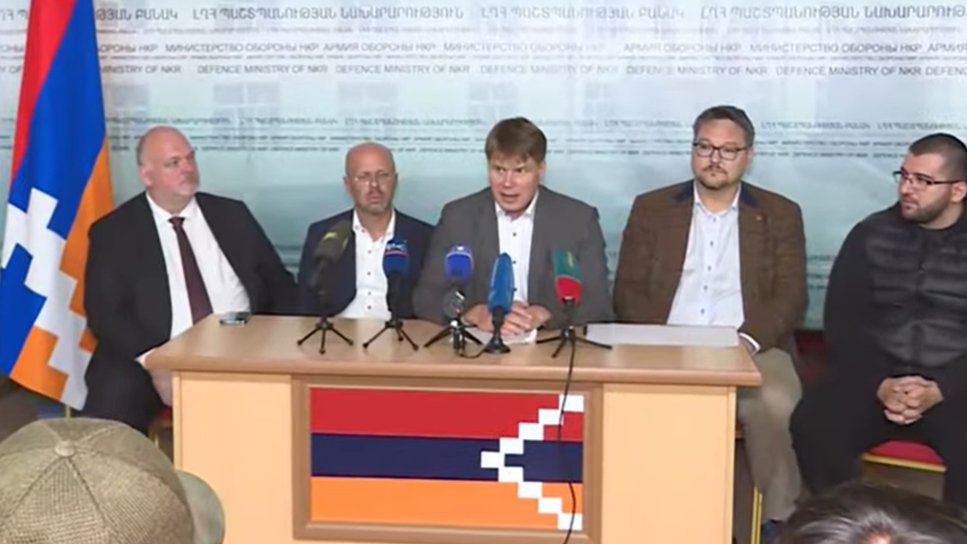 Photo: AfD members on visit to Khankendi, October 18, 2020. Armenian Public Television
A delegation of German members of the Bundestag and the Landtag (provincial parliament) visited the unrecognized "Nagorno-Karabakh Republic" on 18 October amid the ongoing war. The delegation included Steffen Kotré, Andreas Galau and Andreas Kalbitz, all from the Alternative for Germany (AfD) party. These politicians belong to a long list of far-right forces that have voiced their support to the Armenian cause in the current conflict in the South Caucasus.
***
After the outbreak of hostilities on 27 September in Nagorno-Karabakh, where the Azerbaijani Army launched the deoccupation campaign of its territories, the Armenian side promoted a narrative on clash of civilizations, by adding a religious dimension to the conflict and attempting to portray it as a war between Christians and Muslims. Parroted by the Armenian leadership and society, the favorite slogans such as "the last bastion of the Western civilization", "a stronghold against the growing Turkic/Islamic Caliphate" not only distorted the essence of the confrontation, but also tried to divert international attention from the fact of the occupation of Azerbaijani territories. Dismissed as a pseudo-intellectual and racist concept, the so-called "clash of civilizations", however, finds sympathy and support amongst the far-right and populist groups across the continent. Over the past few weeks, statements of solidarity with Armenians have come mainly from the most controversial political figures and forces in Europe.
The leader of the far-right in Dutch political spectrum Geert Wilders tweeted on September 27 in support of "Christian Armenia friends" against "Islamic aggression from Azerbaijan". Later he reiterated his position on Facebook with similar wording. Known for his xenophobic remarks Wilders was repeatedly accused of inciting discrimination and hatred against various ethnic and religious groups.
On the same day, a statement in support of Armenia was published by the right-wing National Rally led by Marie Le Pen in France. Established by Le Pen`s father, who is remembered for his Holocaust denial and Islamophobia, the party still continues to spark controversies in French and European politics with its non-transparent links with far-right groups and the Kremlin. While Le Pen herself does not hide her support for Rattachism, a marginal irredentist movement that claims Wallonia as part of France, her closest adviser Emmanuel Leroy was noticed in a controversial European delegation (consisting mainly of far-right politicians) that joined in 2015 the celebrations on "independence" of the "Donetsk People's Republic", Russian-backed breakaway region of Ukraine.
In his address to the European Parliament, Charlie Weimars from Sweden called on Europe to impose sanctions against President of Azerbaijan Ilham Aliyev and exclude Turkey from the OSCE Minsk Group for its aggression unleashed against what he calls "Artsakh," an unrecognized regime installed in Azerbaijan`s Nagorno-Karabakh region. Ironically, Weimers represents Sweden Democrats characterized as a right-wing populist and national-conservative political force which is said to have its roots in Swedish fascism and white nationalism.
Italian senator and key figure at Italy`s far right Lega Nord Matteo Salvini joined a pro-Armenian rally in his country and echoed a similar narrative on the necessity to defend Armenia, "an outpost of European civilization in the Middle East and the Caucasus."
In Germany, the afore-mentioned Alternative for Germany (AfD) has been quite active in recent years by promoting the recognition of the "Nagorno-Karabakh Republic". No surprise that AfD members offered their support to Armenia also in the past and even sent a delegation to Nagorno-Karabakh to observe "the elections" a few years ago. Armenia`s right-wing Adekvad party with an ultra-conservative and conspiracy-based ideological agenda even appreciated AfD for its ideological friendship.
Support for Armenia was voiced from Greece, more exactly from the country`s Golden Dawn commonly described as a neo-Nazi and fascist party. Its webpage released several statements on the Nagorno-Karabakh and submitted a resolution in favor of Armenians conflict amid the court cases, which saw the Greek court rule Golden Dawn to be a criminal organization and charge the party`s political leadership, including chairman Nikolaos Michaloliakos, with murder, attempted murder, and violent attacks.
Another ardent supporter of the Armenian cause has been Paul Antonopoulos, a Sydney-based scandalous journalist. Employed by pro-Bashar Assad Al-Masdar News, Antonopoulos was consequently outed from the agency for his neo-Nazi stance and racist slurs. His Twitter account which contains not only pro-Armenia views has been instrumental in disseminating fake news and disinformation against Azerbaijan and Turkey.
One of the most controversial politicians in Russia Vitaly Milonov also visited Nagorno-Karabakh on 16 October and expressed his support to the Armenian side, especially the separatist regime installed in the region. Affiliated with the ruling United Russia party and member of the Duma, Milonov has long been the target of controversies and mockery for homophobic and anti-Semitic statements. Named the "architect of Russia's infamous anti-gay "propaganda" law", Milonov paid a visit to another conflict zone a few years back, when he toured to the Russian-backed Donbas region in eastern Ukraine to promote the Russian world values and Novorossiya project.
***
The clash of civilizations narrative actively pushed by the Armenian authorities is one of the several ones addressed to the external audience as a cynical attempt to catch attention of various groups of international political spectrum spanning from the far-left to far-right white supremacists. This very narrative may produce a backlash for Armenia as legitimizing far-right groups and sharing (or showing to share) similar ideologies is not going to gain more sympathy for the Armenian cause. Nor is it going to contribute anything substantial to the resolution of the conflict, which is further complicated with irrelevant elements.
In their turn, the Western and Russian political forces that have a long record of framing political issues as a clash of civilizations primarily between Islam and Christianity may conceptualize the Nagorno-Karabakh problem as another battle ground between the religions without realizing that the conflict`s background does not contain any religious dimension. Ironically, these forces are interested to instrumentalize the Nagorno-Karabakh case in pursuit of their own political agenda, while their support, which is more about rhetoric, offers more damage than help.