Rumors, misdemeanors, and war: Analyzing information from dictatorships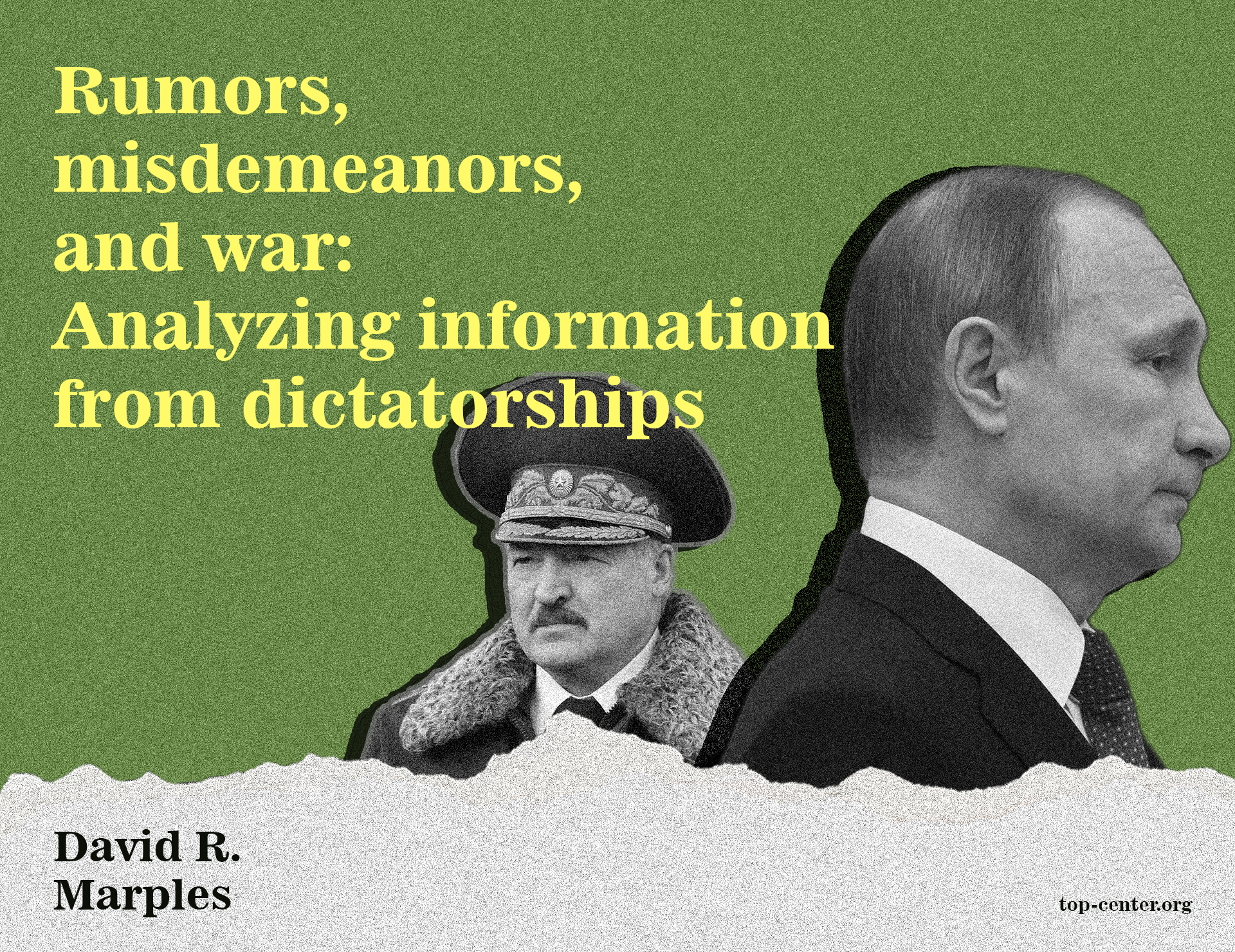 On May 27, a former Belarusian Ambassador to the United States and Mexico, Valery Tsapkala, stated on the Telegram channel that the de facto leader of his country, Aliaksandr Lukashenka, has been sent to the Central Clinical Hospital in Moscow, following a meeting with Vladimr Putin and that the "best specialists" had assessed his status as critically ill.
Tsapkala, who was also a presidential candidate in the 2020 elections, added that the information he had received required "additional information." Nevertheless, it made headlines around the world.
It was well known and corroborated that Lukashenka was seriously ill at the time of the May 9 Victory Day commemorations when he was unable to walk alongside Vladimir Putin during the ceremony in Moscow. When he did reappear he resembled a ghost and his voice had lost is timbre. Thus, the comment by Tsapkala suggested that a recurrence of the original ailment may have occurred.
The other possibility was that Russia had tried to poison Lukashenka, a reliable but awkward ally throughout his lengthy term as Belarusian president that began in 1994. Some surmised that the Russians were very anxious to keep Lukashenka alive precisely to stem such accusations.
On May 29, however, the Belarusian Telegraph Agency published photographs of Governor of Russia's Central Bank, Elvira Nabiullina meeting Lukashenka in Minsk. Evidently she had arrived the previous day - a time when a critically ill Lukashenka would surely have remained in the Moscow hospital. Lukashenka made several comments, comparing the governor's homeland, Baskortostan, with Belarus. Manifestly, he was alive.
We live in a time of hybrid warfare, when rumors and lies are rife, and propaganda a feature of our daily existence. Russia has invaded Ukraine, and Belarus is widely regarded as an ally of Putin. Perhaps, then, it should not be surprising that truth is an early casualty. In this case, Tsapkala created a story guaranteed to cause a sensation in an apparent attempt to gain some personal publicity. In so doing, he has diminished his standing as an accurate reporter and joined a growing army of rumor-mongers on social media.
Similar stories have surrounded Putin, fueled perhaps by his visible deterioration--shaking legs, hands clinging to his desk, and a face that seemed artificially swollen. On Twitter, there were reports of different Putins, stand-ins perhaps, or of changes in his personal appearance.
What is true and what is perhaps wishful thinking by some parties outside Belarus and Russia, is a matter for debate. Putin is 70, Lukashenka 68. These are not advanced ages for leaders addicted to personal fitness and sporting activities. But they are both older than the average lifespan for Russian and Belarusian males and no doubt intense years in power serve as an ageing mechanism.
The broader problem is information gathering in states that have transitioned into dictatorships. How can we be sure that reports are accurate? How is one to differentiate between propaganda and truth when a leader falls ill?
In Belarus, the so-called "free press" no longer exists. In the mid-1990s when Lukashenka was first elected president, he quickly installed sympathetic editors at all the major newspapers. More recently he has shut down all the independent media outlets operating in Minsk. They included Narodnaya Volya, tut.by, Charter 97, and others. Reporters have been harassed, arrested, beaten, and imprisoned for lengthy terms.
In 2020 at the time of the presidential elections, Lukashenka and his government had less control over social media. Thus, social media operators outside the country could communicate quite freely with protesters on the inside. In this regard, the NEXTA Telegram channel was particularly effective. The 2020 election was notable for public activity and popular support for the remaining opposition candidate Sviatlana Tsikhanouskaya.
Despite the protests, Lukashenka survived by deploying security troops to use extreme force and aided by the support of the Russian government. Official Belarus managed to capture one of NEXTA's editors, Raman Pratasevich, by diverting a RyanAir flight Athens-Vilnius to Minsk in May 2021. Pratasevich was interrogated and became an informer for the regime.
Though his associates Stsypan Putsila and Yan Rudzik remained outside the country, they received prison sentences in absentia of two decades each. Pratasevich was sentenced to eight years but officially pardoned by Lukashenka on May 22. The contrasting fortunes illustrate official Belarus's quest to control social media.
Russia's war in Ukraine has critically affected accurate reporting. Belarus' role is complex. Lukashenka offered initial enthusiastic support for Russia's invasion and permitted Russian forces to be stationed on Belarusian territory. Russia fired missiles into Ukraine from Belarus. Lukashenka punished saboteurs who disrupted rail links carrying supplies from the republic into Ukraine.
But the Belarusian army did not join Russia's war. And a small unit of volunteers called the Kalinouski Brigade is fighting on the Ukrainian side. Lukashenka also has to deal with the fact that most Belarusians do not want their soldiers to fight in Ukraine. But we know a lot less about how they feel about the war in general or Russia's "special military operation" largely because people have no means to express their opinion publicly without being arrested.
We should keep in mind that is more than one version of 'the truth', particularly when it involves acts of war, mass casualties, moving of armies, battles, and the like.
Russia's war has inevitably worsened East-West relations. Lukashenka's dictatorship remains in place, three years after his apparent defeat in a presidential election.
But the confusion and failure to provide accurate information has plagued media reports and understanding. The imminent death of Lukashenka--a product more of wishful thinking than anything based on reality--is a case in point. Analysts should be very wary of accepting any information at face value when it concerns dictatorships.