The cancellation of the next Brussels meeting: what does it mean?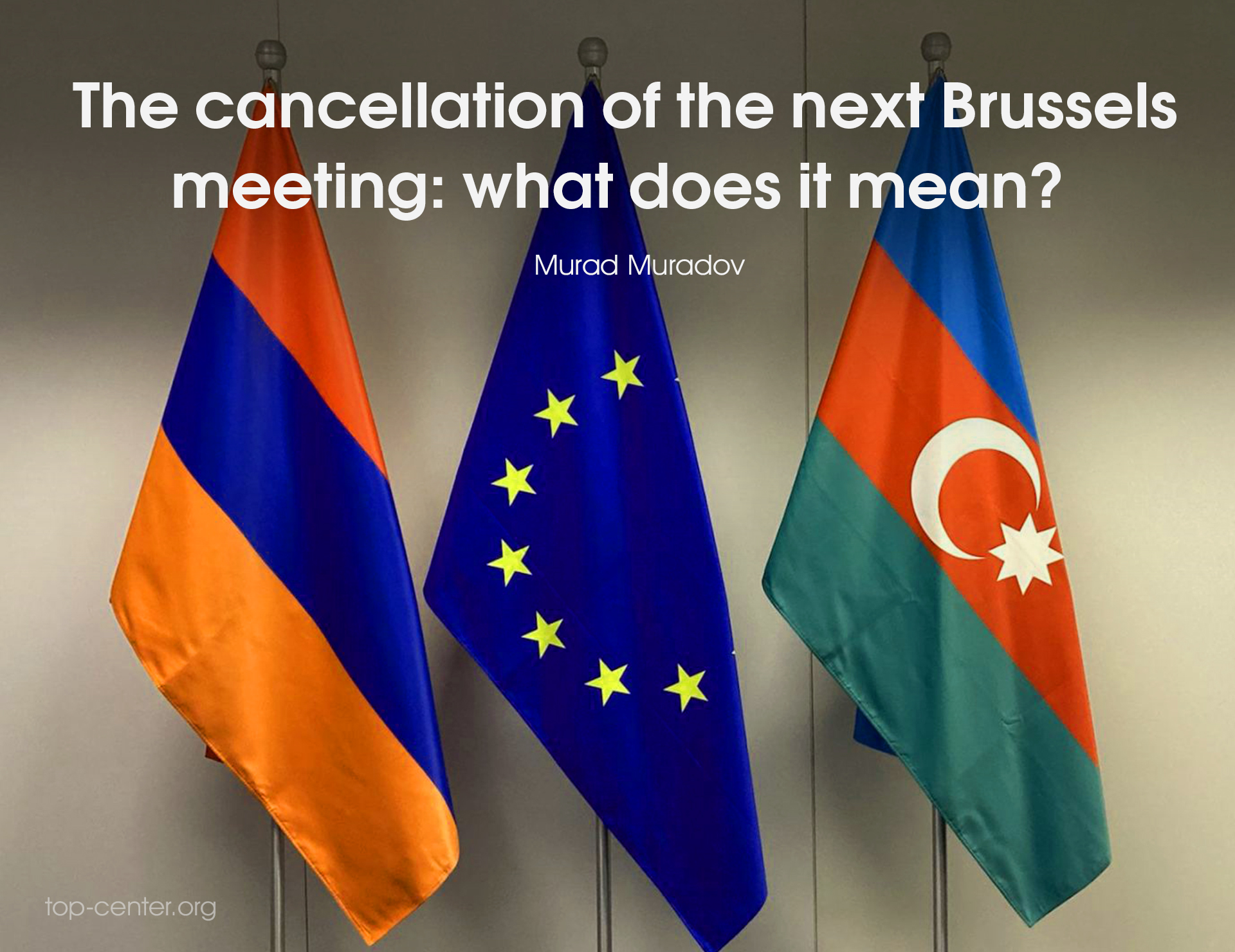 Throughout 2022, the EU-mediated Azerbaijan-Armenia negotiations format proved itself by far the most successful and promising one. At several meetings in Brussels, the bitter South Caucasus rivals have managed to achieve important milestones in terms of intensifying communication, border delimitation and trust building. So, the next Brussels meeting which was to be held on December 7, was highly anticipated by everyone hopeful of seeing the two countries finally at peace with each other, particularly as the word has spread that an agreement is almost ready and will be made until the end of 2022. However, all of a sudden the meeting was canceled. Commenting on this matter, Assistant to the President Hikmet Hajiyev said that the reason for this was an extravagant condition put forward by Armenian PM Pashinyan: he insisted that French President Macron must take part into the meeting, along with the Head of the European Council, Charles Michel, who has been leading the Brussels process. In response, Azerbaijani side made it clear that such conditions are unacceptable and withdrew its participation.
Baku's unwillingness to see President Macron at the negotiation table is understandable. For a number of times, Paris has shown its strong pro-Armenian bias, which hardly helps to qualify it as a good-faith mediator between the two nations. For example, only several days after the inspirational discussions at the Prague Summit of the European Community, Macron made a number of highly controversial comments while speaking to a French TV channel, calling Nagorno-Karabakh "a disputed territory" and named Armenia a victim of aggression, promising to protect its interests. In response, President Aliyev stated that Paris "had lost the opportunity to fulfill the mediator role" with these statements. Then on 15 November, the French Parliament almost unanimously voted for a resolution condemning "Azerbaijani aggression against Armenia", calling for the recognition of the independence of the so-called "Republic of Artsakh" and introducing sanctions against Azerbaijan, including an embargo on the purchases of Azerbaijani oil and gas. Moreover, Baku understands that accepting such preconditions it would create a dangerous precedent for Armenia to concoct various pretexts in the future to continue delaying unpopular but necessary decisions- which is a red line for Azerbaijan which has been insisting that a general agreement on a bilateral document should be achieved by the end of 2022.
But what does this story tell about Armenian Prime Minister and his foreign policy strategy? Well, Pashinyan's latest demarche epitomizes his hypocritical approach to the West and the Western role in the South Caucasus. Since coming to power after the "Velvet revolution" in 2018 Pashinyan's government has been positioning itself as a champion of liberal democracy in the region, trying hard to interpret the conflict with Azerbaijan as a "battle between democracy and authoritarianism". This narrative, while easily digestible for the outsiders unaware of the complex history of the region, suffers from one fundamental omission- it conveniently forgets that the reason why the First Karabakh war had remained frozen but not resolved, was that the Armenian side would consistently refuse to repair the consequences of the territorial occupation and massive ethnic cleansing which turned almost 10% of the Azerbaijani population into IDPs.
Compared to its predecessors, Pashinyan's government indeed seems to be much more pro-Western and features a number of people known for their critical attention to Yerevan's strategic dependence on Russia. Moreover, after the 12-13 September clashes certain circles from the Armenian diaspora and its sympathizers started to draw comparisons between Armenia and Ukraine, both represented as "the victims of aggression of authoritarian petro-states", Azerbaijan and Russia respectively. This manipulative rhetoric helped Armenia to gain somewhat more support in the West and endowed the Armenian lobbies with a powerful new tool.
However, criticisms towards Moscow and pro-European rallies in Yerevan have not led to Armenia leaving the CSTO. The moves which have been made after September 2022 in this direction are nothing but imitations aimed at reinforcing the narrative of Armenia as a "victim" trying to get released from its chains. It is worth noting that Pashinyan's refusal to sign the CSTO Declaration on Armenia on November 23, represented as another "bold step", was due to the fact that the Moscow-led bloc "had failed to protect Armenia from aggression", by which Yerevan means forcing Baku back into the previous status-quo and reconsidering the issue of Nagorno-Karabakh's status and not to Armenia's opposition to Russian aggressive and expansionist policies or a desire to distance itself from autocracies. Moreover, just shortly before the Armenian PM enthusiastically endorsed Moscow's initiative to prolong the terms of the Russian "peacekeeping mission" in the former NKAO for at least 10-15 years (and de-facto for an indefinite period), which was rightly rejected by the Azerbaijani side.
And what does Pashinyan's latest U-turn which aborted a crucial meeting in Brussels, stand for? Well, two things. First, this decision demonstrated that despite professing piety to European values and Western orientation, Pashinyan doesn't trust core European institutions at all. Otherwise, why should he insist on President Macron's presence while the meeting was to be moderated by Charles Michel, a representative of Europe's ultimate political body and former PM of another important Western European country who has proved himself as an impartial and efficient negotiator? It means that for Armenia Europe poses interest not as a strategic development trajectory but just inasmuch as another actor which they hope could put pressure on Azerbaijan and freeze the status-quo without a proper bilateral agreement- basically Europe which would take over the role Russia has been playing for 30 years. Symbolic enough, on the very same day, speaking at the "Along the Middle Corridor"-themed conference in Baku, President Aliyev reiterated positive dynamics in the Azerbaijani-European relations and confirmed that a new version of the bilateral cooperation agreement is almost ready. A brief look at the two countries' positions on the conflict in Ukraine reveals even more stark evidence. For example, while Baku has abstained from voting in favor of anti-Russian resolutions in the UN or joining anti-Russian sanctions in order not to cause additional tensions and not to cause fundamental harm to its own economy, it has been consistently aiding Kyiv and the Ukrainian people in its struggle. Since the first days of the war, SOCAR's Ukrainian branch has been providing Ukrainian social services, including healthcare facilities, with free petrol. Multi-million USD' worth of humanitarian aid has been provided on many occasions; moreover, according to some Russian intelligence reports, some weapons, including mortars and high-precision missiles from Azerbaijan, ended up in Ukraine via Sudan. To emphasize the probability that this information may well be true, Ukrainian Foreign Minister D. Kuleba, speaking on 26 November to the French newspaper Le Parisien, said that "a significant number of countries have been providing weapons to Ukraine secretly". In contrast, Armenia has been this far taking a much more pro-Russian stance. Unlike Azerbaijan, it fell into the Congress list of the countries whose companies actively help Russia to avoid sanctions. The UK-based analyst Taras Kuzio emphasizes that "Armenia has donated Soviet and Russian military equipment to Russia... Four Armenian SU-30 jet fighters have been donated to Russia".
Secondly, Armenian propagandists will now definitely try to interpret Baku's refusal to participate in the meeting as a lack of commitment to the peace agenda and even an anti-Western position. At the same time, the probable outcome of Yerevan's U-turn will be a bigger role of Russia in the negotiations. The latest trilateral meeting in Sochi has revealed the Russian elites' barely disguised anger with Europe's success as a mediator between the two countries. It was Azerbaijan who spoiled the Moscow game in Sochi, refusing to discuss the prolongation of Russian presence in Karabakh and postponement of the "ultimate solution" of the Karabakh problem. Yerevan now will most probably try to continue sitting on two (or even more) chairs, declaring a commitment to European integration but relying on Moscow's support on the ground to continue postponing the proper conflict resolution and hoping for the balance of power to change in its favor. Armenia has been trying all these years to frame the occupation of Azerbaijani territories in the European parlance of human rights and "historic justice" but preserve it solely with the help of raw Russian power. However, as the Russian war in Ukraine has shown, any frozen conflict in the wider Eastern Europe region represents an opportunity for Moscow's revanchist attempts to disrupt the political order and prevent the European vision of a stable and prosperous neighborhood, from becoming reality. It's time now to fully recognize the consequences of sabotage and hypocrisy.