New turn in Ukraine's strategic orientation: "the anti-Russian triangle", role of Turkey and new pragmatism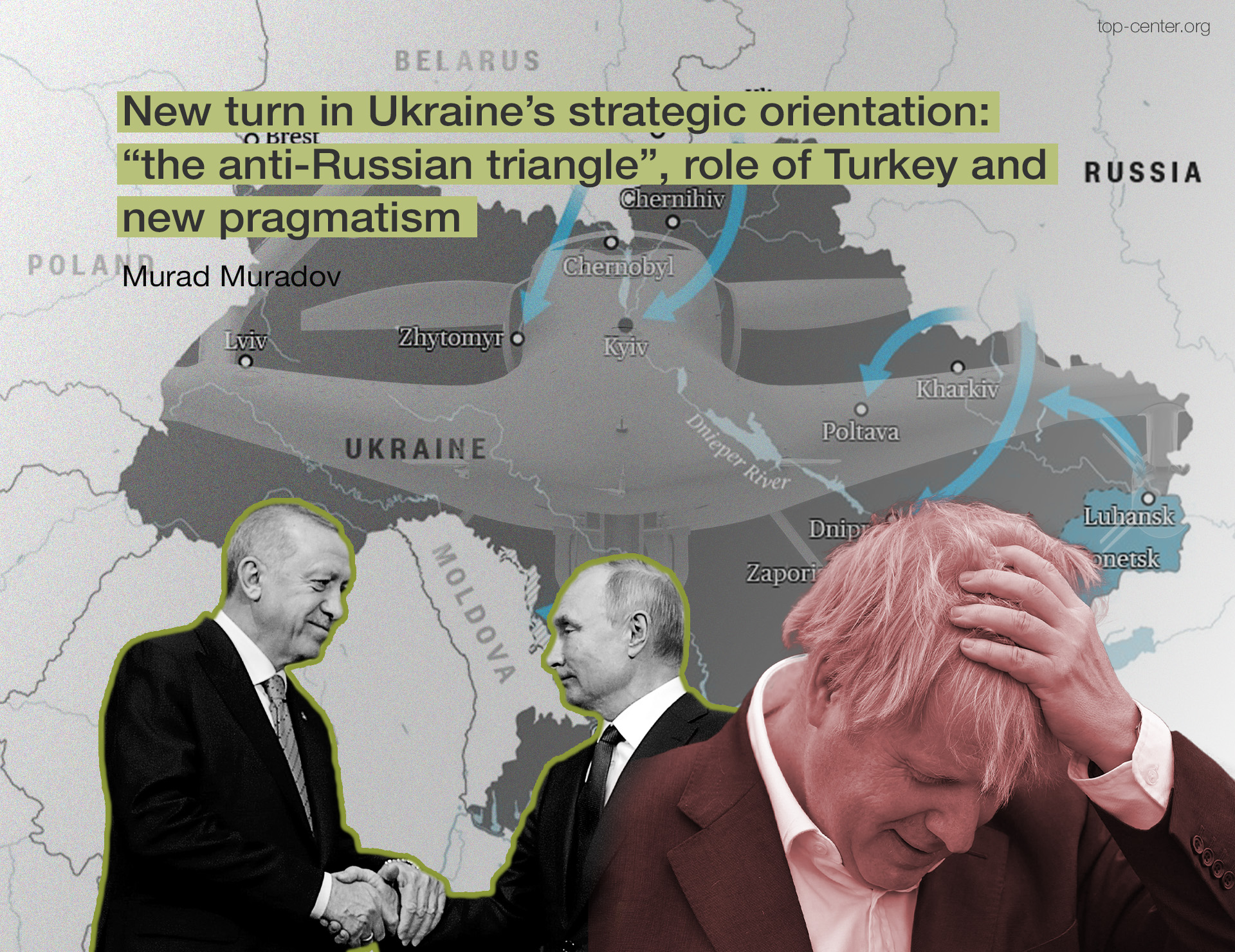 In January, international developments over the Ukrainian crisis took a new turn. Seemingly alarmed by the threat of the Russian invasion and mixed signals coming from the West regarding its support in case of an escalation, Kyiv started to shift from generally pro-Western orientation towards a policy of more focused and deeper relationships. At the same time, the issues of arms supply to Ukraine and new anti-Russian sanctions have divided Europe: while London, Poland, Scandinavian and Baltic states are actively supporting Ukraine, some countries, notably the EU's informal leader Germany, wary of "alienating Russia" too much, refused to participate in arms supply and urge Kyiv to take a conciliatory approach, implying the strict commitment to the Minsk Agreements. A number of high-level meetings held by President Volodymyr Zelensky with a number of foreign leaders and important agreements achieved led many experts to claim the formation of a new strategic alliance between Great Britain, Poland and Ukraine- with Turkey playing a particular but no less significant role in this new interregional enmeshment. Zelensky himself announced the creation of the new "format of political cooperation" between the 3 countries on February 1, in the wake of Boris Johnson's visit.
London has indeed proved to be the most vocal supporter of the Ukrainian cause among big powers. Among the extensive range of weapons provided to Kyiv in the recent months, there are light anti-tank missiles, aimed at granting a vital advantage to defending troops in a close-range and urban warfare, surface-to-surface missiles for Ukrainian patrol boats and missiles for aircraft. Moreover, Britain has been taking a vivid interest in the capacity building of the Ukrainian navy and military aviation; thus, London has provided a loan to finance the acquisition of two minesweepers, their delivery and maintenance and the joint construction of 8 missile boats, delivery and installation of weapons systems on existing ships, joint construction of the frigate. British shipbuilder Babcock will build small combatants for the Ukrainian Navy in accordance with the UK's Ukrainian Naval Capabilities Enhancement Programme (UNCEP). In 2021, London reportedly sent hundreds of Special Forces combatants to train their Ukrainian counterparts and even hinted at the opportunity of dispatching some troops there if a war erupts, though official source have recently rejected this scenario. On the other hand, London has been very vocal in announcing harsh punishments for Russia in case she decides to escalate the conflict, up to the point of freezing the assets of all Russian oligarchs living in Britain with a degree of connection with the Russian state. As if all this were not enough, on 22 January, the chair of the Commons Defense Select Committee Tobias Elwood even said that Britain must do more to support Ukraine in the face of an imminent threat. Prime Minister Johnson's visit to Kyiv has also added food for thought to political experts, as he confirmed Britain's readiness to stand shoulder to shoulder with Ukraine, warned that consequences of a possible escalation would be "bloody" for Russia and noted that Putin "wants to build a new Yalta", thus emphasizing that the conflict has European and global, not merely regional, significance.
Next, Poland. Warsaw has long been probably the most outspoken critique of Russia's expansive ambitions and attempts to infiltrate the political leadership of Western countries. Being the historic antagonist of Moscow, Poland is traditionally very close to the Atlantic wing of the West- namely, United States and Great Britain, sharing their usually hawkish stance on the Kremlin and in this being often opposed to the "old Europe" leaders- particularly France and Germany. Poland has been on the forefront of various initiatives deemed in Moscow anti-Russian- such as EU's Eastern Partnership programme or Intermarium, the concept that originates in the 1930s and aims at bringing together the wide belt of Eastern European countries from the Baltics down to Bulgaria. So, Warsaw's hardline stance on Russia since the beginning of the Ukrainian conflict in 2014 is hardly surprising. In the space of the last 3 weeks, Zelensky met first with his Polish colleague Andrzej Duda and then Polish MFA Mateusz Morawiecki visited Ukraine. While arms supplies also play a certain role in the bilateral partnership- Poland pledged readiness to export extensive amounts of ammunition and artillery ammunition, air defense systems, and also light mortars and reconnaissance drones, it goes well beyond that. Being Ukraine's immediate neighbour, Poland on one hand is capable of helping in matters connected to energy security, capacity building, logistics and transport- in fact, all these issues have been extensively discussed during the latest meetings. On the other hand, Warsaw, in virtue of its geographical location and political stance, will be among the hardest-hit countries should a major military conflict happen in Ukraine.
Simultaneously, the latest developments in Ukraine's bilateral relations with Turkey have been characterized as no less than a breakthrough. During President Recep Tayyip Erdoğan's official visit to Kyiv, a number of documents have been signed, the most significant being the Free Trade agreement and- quite remarkably- the agreement on producing Turkish-developed Bayraktar drones which have recently gained much fame as an extremely efficient tool of modern warfare and which have already been purchased and tried by the Ukrainian Armed Forces. Earlier on, in 2021, Ukraine acquired two Ada-class Turkish corvettes for its military fleet patrolling the territorial waters in the immediate vicinity of the contested areas now occupied by Russia or controlled by separatists. Analysts even started to claim that Ankara might tip the balance in the Ukraine-Russia standoff. At the same time, Turkey has never missed a chance of reiterating its unequivocal support for Ukraine's territorial integrity and called, mainly through its MFA Mevlüt Çavuşoğlu, Moscow's grabbing of Crimea an illegal act of annexation. While Ankara has not been mentioned as part of this triangle, it is quite clear that it became one of the key strategic partners for Kyiv and a key element in Ukraine's security equation.
So, how can the newly forming power configuration in Eastern Europe be interpreted? It's spectacular that this "3+1" structure is being shaped right when the unity and cohesion of the NATO members in the fact of Russian threats and overall global instability stand a serious test they may easily fail at. In this new situation, Kyiv has no other options but to behave pro-actively and secure strong partnerships with the countries willing to actively invest in its security. President Zelensky actually criticized American panic-mongering and made a number of statements that barely disguised his dissatisfaction with American approach to the situation: there are strong suspicions that Washington, by raising the degree of alarm, is much more interested in raising pressure upon Moscow for its own sake rather than for protecting Ukraine in the first place. It is widely speculated that his personal relations with U.S. President Joe Biden have seriously deteriorated.
On the other hand, Britain right now seems better posed to offer Kyiv tangible benefits. The current Conservative strategy of "global Britain" that it adopted in the aftermath of Brexit presupposes London's more active and independent involvement in the affairs of the regions it traditionally considered priority- Eastern Europe, Mediterranean and the Middle East in the first instance. Some analysts suppose that the British grand strategy has shifted from following the U.S. initiatives towards sort of "substituting" them in the areas where Washington cannot keep the desirable level of involvement. So, as U.S. is focusing more and more on its rivalry with China and the Asia-Pacific region at large, London has a chance to take up initiative and lead the West on the so-called "Russian front". Hence, Warsaw, which used to be Washington's most committed partner in the post-socialist world is now naturally attracted to London's initiatives. The Polish government's systemic controversies with the Brussels bureaucracy (the prospect of Polish exit is now viewed as something more than a merely hypothetical scenario) automatically trigger it to align with global Britain trying to rediscover herself as one of the poles of attraction in the West.
Turkey's role in this configuration is still more complex: Ankara, while being a NATO member with the second biggest armed forces in the alliance, is not an EU state and moreover, has recently had quite uneasy relationships with many Western countries, notably US, and is often viewed now as the NATO's outlier. Geopolitically, friendship with Ankara indeed can offer Kyiv a set of unique benefits. First of all, being a pivotal state in the vitally important region between Europe, Eurasia and the Middle East, Turkey can afford an independent and multi-vectored foreign policy. Capitalising on this strength, President Erdoğan has developed very intensive relationships with Moscow which can be characterized as a mixture of cooperation and competition. His unwillingness to play the common fiddle and readiness to diverge from the approaches of the "collective West" when he deems necessary, made Erdogan an indispensable partner for Russia, particularly after the 2014 crisis and the introduction of the sanction regime. At the same time, Turkey has a natural stake in Ukrainian territorial integrity due to the presence of the large Crimean Tatar community which, having mostly negative collective memories about Russia, was against its well de facto moved into Russia with the annexation of the Crimean peninsula. As the international champion of their rights and status, Ankara is destined to take a principled stance on this matter. Moreover, Erdoğan has reportedly used his special relationship with Vladimir Putin to get certain concessions on the situation with Tatars, including pro-Ukrainian activists- which was of course in Ukraine's interest as well.
Contemporary Turkey, with its slogan "World is bigger than five", calling for the enlargement of the Security Council permanent members institution, positions itself as an independent powerhouse. Turkish dignitaries invariably emphasize their commitment to peace between Russia and Ukraine and on numerous occasions offered the parties to hold high-level talks in Turkey. For Ankara, Russia and Ukraine are indeed important trade partners, and the loss of these markets would be a harsh blow for the Turkish economy shaken by the currency depreciation. Ankara may be among the biggest losers should such a conflict happen. At the same time, partnership with Turkey has an important advantage for Ukraine: unlike most Western partners, it doesn't take a condescending view and has a mutually beneficial, rather than one-sided, relationship: in some spheres, notably military engineering vitally important for Turkey's developing arms industry, Ukraine has solid experience and know-how to offer. Moreover, for having its "skin in the game" Turkey may indeed be most genuine in its attempt to build bridges and prevent a full-fledged conflict from erupting.
It is also notable that almost simultaneously with the actualization of the Kyiv-Ankara ties, Turkey's closest ally Azerbaijan has also demonstrated its solidarity with Ukraine. President Ilham Aliyev's January 14 visit had a number of significant outcomes, remarkably the Joint Declaration of the two Presidents which reiterated mutual support for the sovereignty and territorial integrity of the two states within their internationally recognized borders" and a "readiness to intensify cooperation in fighting hybrid threats and further strengthening cooperation in the field of defense industry by completing current and developing new joint projects" and Baku's decision to lease an unspecified amount of agricultural land in Ukraine to produce wheat for its own purposes. This latter agreement is particularly important since land is the asset whose value is most vulnerable to political instability, let alone military conflicts- so it can be clearly interpreted as Azerbaijan's statement of a claim in Ukrainian security.
Whether the current standoff will burst in a full-fledged violence between Russia and Ukraine or not, it is now clear that it has already caused a profound reshuffling of the Ukrainian foreign policy and strategy. From being primarily focused on securing and accelerating integration into the institutions of the "collective West" and gaining recognition as its inalienable part, Kyiv is more and more moving towards a more pragmatic orientation, choosing partners most willing to satisfy its primary needs and directly interested in Ukrainian security. After a period of certain liberal idealism, President Zelensky, who had started his term in power with the genuine intentions of making the good of the Minsk agreements and finding a common ground with Moscow, is clearly realizing the gravity of the situation of his country as well as the cracks and controversies emerging within the West. In this regard, Kyiv's willingness to formalize its "special relationship" with London and Warsaw with the backing of Ankara and lesser but nevertheless very important partners, such as Azerbaijan and Baltic states, just while the ties with the EU and its leaders Germany and France are on the obviously downward track, indicates the depth and scale of the ongoing geopolitical shifts.