Water in Crimea: how is it related to a new conflict in Ukraine?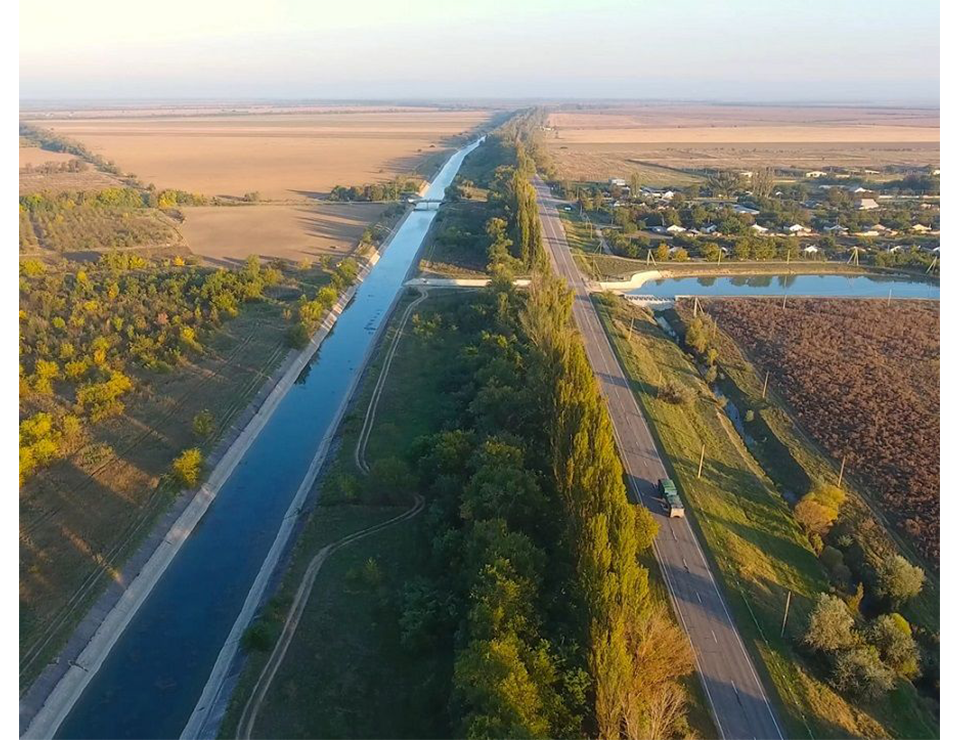 A number of alarm bells have been recently ringing in the zone of the frozen conflict between Ukraine and Russia over the Crimea and Donbass area. For example, on March 31 Leonid Kravchuk, Head of Ukraine delegation at Minsk Contact Group, claimed that Russians refused to guarantee the full ceasefire regime starting midnight April 1st. Moreover, the Chief of Staff of the Ukrainian Armed Forces Ruslan Khomchak on the next day announced preparations for calling up reservists due to Russia's gathering forces close to the line of contact. On the opposite side, Russian officials have long been pondering over Ukraine's allegedly "aggressive behavior", as the most recent comment has been made by President Putin's spokesman V. Peskov who expressed his government's "concern" over Kyiv's behavior and the fears that it may provoke a new war "which Moscow doesn't want" . The row of similar statements came after certain developments in Ukraine deemed to aim at reducing Russian influence in the country, for example banning the broadcasting of three TV channels belonging to the openly pro-Russian oligarch Medvedchuk, in February.

These statements did not come out of the blue, though: the reports of intensive reinforcements and reconnaissance works going on on the both sides have been coming for quite a long time already. Recently, the Ukrainian division of the "Freedom Radio" has reported a number of new Russia-produced radioelectronic combat equipments being deployed in the Donbas conflict area, among them such models as "Diabasol" and "Jitel", as well as "Casta A1-E", a radio locating system. On March 26, several hours of intensive fighting left 4 Ukrainian dead. It is rather worrying that a surge of military activities has been observed not only in Donbas, which has long been an area of a slowly brewing conflict, but in the territory of the Crimea as well. Another trend of the recent months which has caused a lot of rumours about an inevitable escalation was the massive purchases by Kyiv of the Turkish-produced "Bayraktar" drones which had been hailed for successful use in the Second Karabakh War by Azerbaijan; the Army is reported to plan to expand their number to 50. Many Russian experts and political figures are worried about Ukraine's possible desire to replicate the Azerbaijani tactics against the occupied territories in the nearest future.

Since this standoff is happening against the backdrop of rising tensions in the global politics, the possibility of its degeneration into a full-scale military action looks rather worrying right now. The China-EU deal which seemed all but secured as recently as December 2020, is now under threat with the sanction spree between the parties and growing opposition within many European countries. The latest meeting of the high-level diplomats from China and U.S. in Alaska did nothing to ease the tension; in fact, the opposite can be claimed as the parties exercised mainly in reiterating the points of principled disagreement over some fundamental foreign policy issues. These dynamics could not have been unnoticed in the Kremlin which has also taken a more severe tone towards the West. While Foreign Minister Lavrov admitted that there are currently "no relations left" between Moscow and US, Peskov said that the possibility of Russia being banned from using the international payments system SWIFT cannot be excluded . Earlier, it has been universally believed that this threat remains a red line for Russian leadership, including President Putin, and that a number of concessions of Ukraine and some other contested issues were obtained under this threat exactly. The change of guards in the White House must have also played its role, as Russia doesn't believe now that the Biden administration would abstain from some harsh measures- in contrast to its beliefs regarding the Trump administration. Hence, we must admit that the logic of previous years that Moscow has certain limits in its deterioration with the West may not hold any more and that this rupture might take a much more dramatic form in the nearest future.

But there is one issue which is maybe the most alarming factor which dramatically raises risks of an escalation but is still relatively underestimated. This is the water problem in the Crimea which gets more and more challenging year after year. As it is known, Ukraine cut water supplies from the North Crimean channel that had been an indispensable source of drinking water for the region prone to long summer draughts and rather poor in undergrounds waters. At first, technological solutions helped to somewhat increase the efficiency of local water production, but they seem to be increasingly less efficient. The situation is exacerbated by the climate change, as the annual rainfall is decreasing and summer heatwaves are getting longer and harsher. It is reported now that water in the houses is running for several hours a day and its quality is very poor. Although a plan was approved last year to conduct works on improving the water infrastructure in the peninsula, it is supposed to be completed no earlier than in 2024 and its efficacy raises considerable doubts. The gravity of the situation can be illustrated by the fact that the court claims that are now being prepared against Ukraine for its alleged "breach of humanitarian obligations" demand an absurd sum of 20 trillion rubles (about USD 300 bn.). So, the gist of the problem is that Moscow definitely fears that each year of scarce water would make Crimeans raise uncomfortable questions as regards their "reunification" with Russia in 2014 and whether it was worth getting mired in so many problems at all. One thing President Putin definitely fears very much is to be exposed unable to resolve significant problems and satisfy the people's basic needs - particularly when it comes to such a sensitive issue as Crimea, ideological darling for the Russian leadership. Hence, it might be suggested that as long as the water crisis remains dire, pressure on Ukraine will be definitely increased and at some point may take military shape and degenerate into a conflict of middle or high intensity.