South Azerbaijan panel held in Karpacz Economic Forum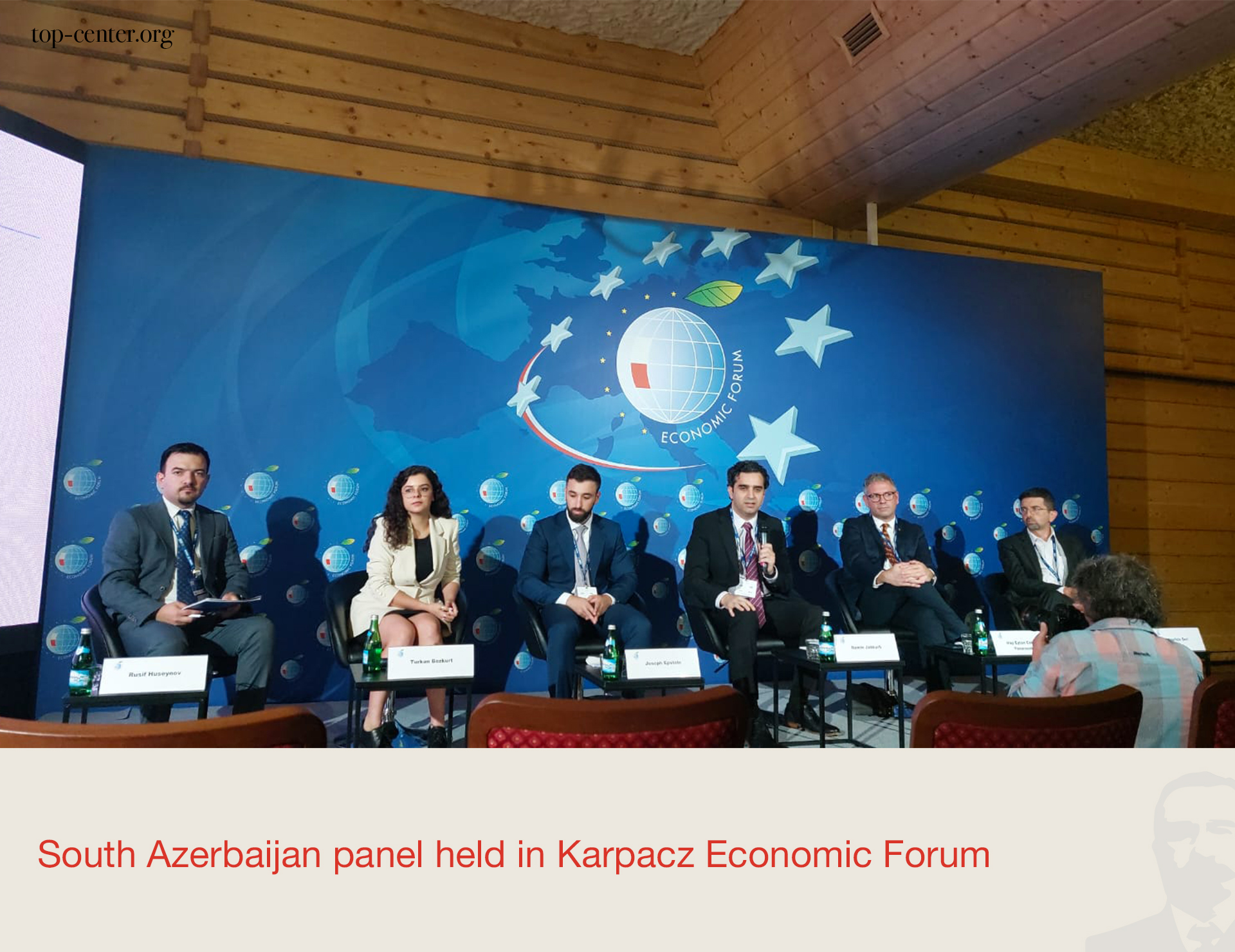 On 7 September 2023, Topchubashov Center hosted a panel in the 32nd Economic Forum in Karpacz, Poland. The panel entitled "Human Rights Situation in Iran: The Case of Ethnic Azerbaijanis" gathered following experts from all over the world:
Rusif Huseynov, Director of Topchubashov Center, as a moderator of the discussion,
Turkan Bozkurt, researcher, University of Toronto (Canada),
Joseph Epstein, Legislative Fellow, Endowment for Middle East Truth (EMET) (Washington, DC, United States),
Dr. Maurizio Geri, EU M.Curie Fellow 2024-2026 (Washington/Brussels/Venice),
Ramin Jabbarli, Researcher, University of Washington (Seattle, United States),
Dr. Hay Eytan Cohen Yanarocak, Researcher, Moshe Dayan Center for Middle Eastern and African Studies at Tel Aviv University (Tel-Aviv, Israel)
In his opening speech, Rusif Huseynov explained that while Iran became indirectly involved in the conflict of Ukraine when its UAVs were extensively used by the Russian forces, the Mahsa Amini protests shaped its domestic dynamics and worsened the human rights situation of different ethnic groups, including Azerbaijanis (who are also known as South Azerbaijanis or Iranian Azerbaijanis). According to him, the discrimination against Azerbaijanis in Iran is usually an understudied and underdiscussed topic, despite their size as the biggest ethnic minority (15-30 million people, according to different estimates) and this panel was to pave way for more discussion in this direction.
In his turn, Ramin Jabbarli, explained how discriminatory attitude of different governments in Iran toward the South Azerbaijanis had been conducted over the decades: the Persianization policy, change of toponyms, lack of education in mother tongue, and economic discrimination, which were employed during the monarchy, have been continuing since the 1979 revolution under the theocratic regime. According to him, the authorities in Iran have been pursuing nation-building upon the Shia identity, leaving no room for the rights of non-Persian ethnic groups.
Turkan Bozkurt focused on the gender aspects of the ethnic group rights in Iran, whose theocracy is known for "gender apartheid" and "misogynistic politics". In this context, ethnic Azerbaijani women in Iran not only face discrimination based on their gender but also their ethnicity. Ms. Bozkurt referred to her human rights reports, which collected extensive data of the females arrested, tortured, and murdered during the months-long Mahsa Amini protests and mentioned influential Azerbaijani women such as Hadis Najafi and Elnaz Rekabi, who had become the icons of those protests.
Another panelist, Joseph Epstein, who had lately penned a Newsweek article about the gradual disappearance of Lake Urmia, once one of the biggest saltwater lakes, explained why this ecological catastrophe was important to discuss. According to him, the situation around the afore-mentioned water basin is not only an environmental issue and it might have bigger implications: political, economic, and demographic. If the water level in the lake, which is located in an Azerbaijani-populated province, continues to shrink at this pace, it may cause the second biggest displacement of population due to environmental factors in history.
While discussing the lack of interest in the South Azerbaijan cause in the United States, Mr. Epstein suggested the Azerbaijani diaspora become more organized to be able to influence the American political circles.
In his speech, Dr. Maurizio Geri shared his experience of attending a South Azerbaijani rally in Berlin back in May and reporting about it in his article for EUReporter, a Brussels-based media outlet with the aim to attract more attention to the South Azerbaijani topic in the Western capitals. He also urged the EU structures and individual countries to pay more attention to the human and ethnic minority rights in Iran and to put more pressure on Tehran in order to improve the situation.
The last panelist Dr. Hay Eytan Cohen Yanarocak focused more on geopolitical weight of the South Azerbaijan issue in the Middle Eastern and Caucasus context. According to him, this topic is among the factors that shape Tehran`s foreign policy in the direct neighborhood, including an assertive and sometimes unfriendly attitude toward its northern neighbor Republic of Azerbaijan, as well as its geopolitical alignments, such as the partnership with Armenia, again built against Azerbaijan.