Kocharyan-style omnibalancing may cost Armenia its already beleaguered sovereignty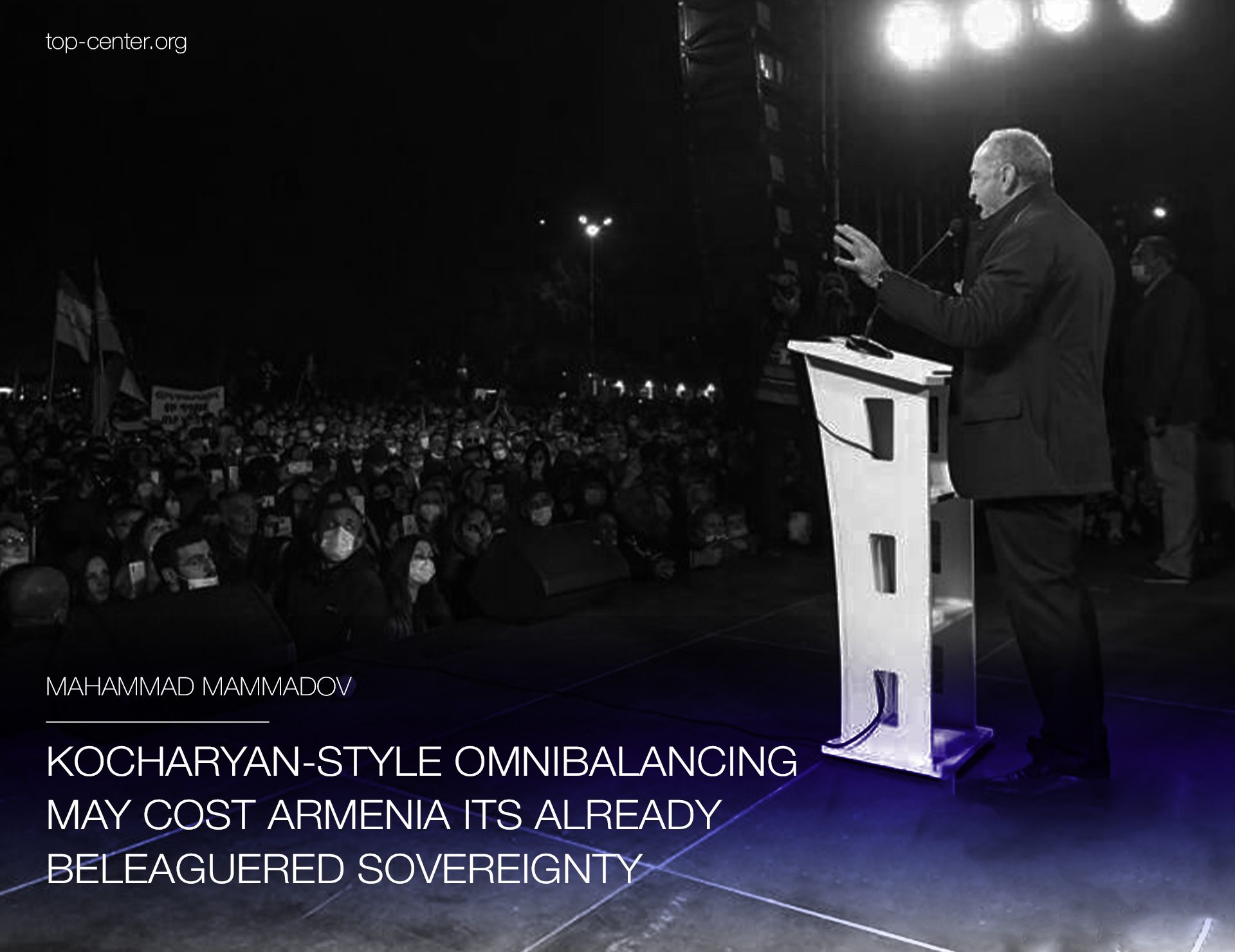 In more than a year's time since Armenia's defeat in the Second Karabakh War, it is already a well-established fact that Yerevan's dependence on Russia has reached unprecedented levels and no serious political force in Armenian politics questions the future of the country's alliance with Russia. Recently there have been calls for further integration with Russia, similar to the Russia-Belarus Union State, that will likely push Armenia deeper into Moscow's orbit. In an interview with Russian state-owned media outlet Sputnik on February 8, Armenia's former president and head of the opposition Hayastan alliance Robert Kocharyan said Yerevan should very seriously think about much deeper interaction with Russia, possibly a full-fledged modern integration. Later, in a February 17 press conference, he claimed Armenia should not be afraid of joining the Union State and pragmatically calculate the costs and benefits of such a choice.
Kocharyan's musings about the Union State with Russia are part of a classic omnibalancing strategy where local elites seek engagement with external powers to ensure their political and physical survival that sometimes comes at the expense of the interests of the state. So his political maneuvering entails appeasing lesser threats - that is loss of sovereignty to a Russia-led supranational state - to address more pressing challenges in the domestic and external arena. Posing himself as the most pro-Russian pole in Armenian politics, he aims to create fractures in the incumbent regime's ties with Moscow and guarantee Russia's backing for his return to power to consolidate authoritarian rule in the country. In this context, it should come as no surprise that he accuses Pashinyan's government of moving Armenia from Russia's sphere of influence to a Turkish one and promises Russia a strong ally in the South Caucasus presumably under his rule.
Armenia's continuing negotiations with Turkey on the normalization of relations and its openness to gradual reconciliation with Azerbaijan is deleterious to Kocharyan's policy agenda that succumbs to a monumentally self-destructive ideological fever of Turkophobia. Expectedly, he exaggerates the challenges Armenia could face after the opening of borders with Turkey and construction of railroads connecting Baku to Ankara, hence reigniting ordinary Armenians' long-held beliefs that these two neighbouring countries are natural enemies and Armenia needs a strong leader with Russia's support to overcome this challenge. In a union state with Russia, he believes he can neutralize his political rivals, thus putting an end to Armenia's half-hearted transition to democracy, and in the long term, return some territories in Karabakh Yerevan lost in the 44-day war in 2020. Such a scenario bodes well neither for Armenia's existence as an independent state nor multilateral peace-making efforts in the region.
What makes Kocharyan's comment on the possibility of joining the Union State more interesting is it has come on the heels of similar moves recently taken by leaders of some member states of the Eurasian Economic Union. In Belarus, after years of playing the West against mounting Russian pressure, last year president Lukashenko acceded to Vladimir Putin's demands with regard to the "creation" of the Union State to get Moscow's support to crack down domestic protests and balance ideological and economic challenges emanating from the West. According to Lukashenko, Russia has rolled up her sleeves to create a mini Soviet Union of sorts that will include not only Russia and Belarus but also Central Asian republics, Ukraine, and Armenia who "has nowhere else to go". In Kazakhstan, president Tokayev's invitation of Russia-led CSTO troops to the country to clamp down on anti-government protests and intra-elite struggle in early January also showed how local elites opt for compromising state sovereignty to strengthen their hand against primary threats in domestic politics. Kocharyan is playing along similar lines that he hopes might open his way to power and guarantee Russian help against 2018-like revolutions at the expense of Armenian sovereignty and peace in the South Caucasus.