Pashinyan the Realist?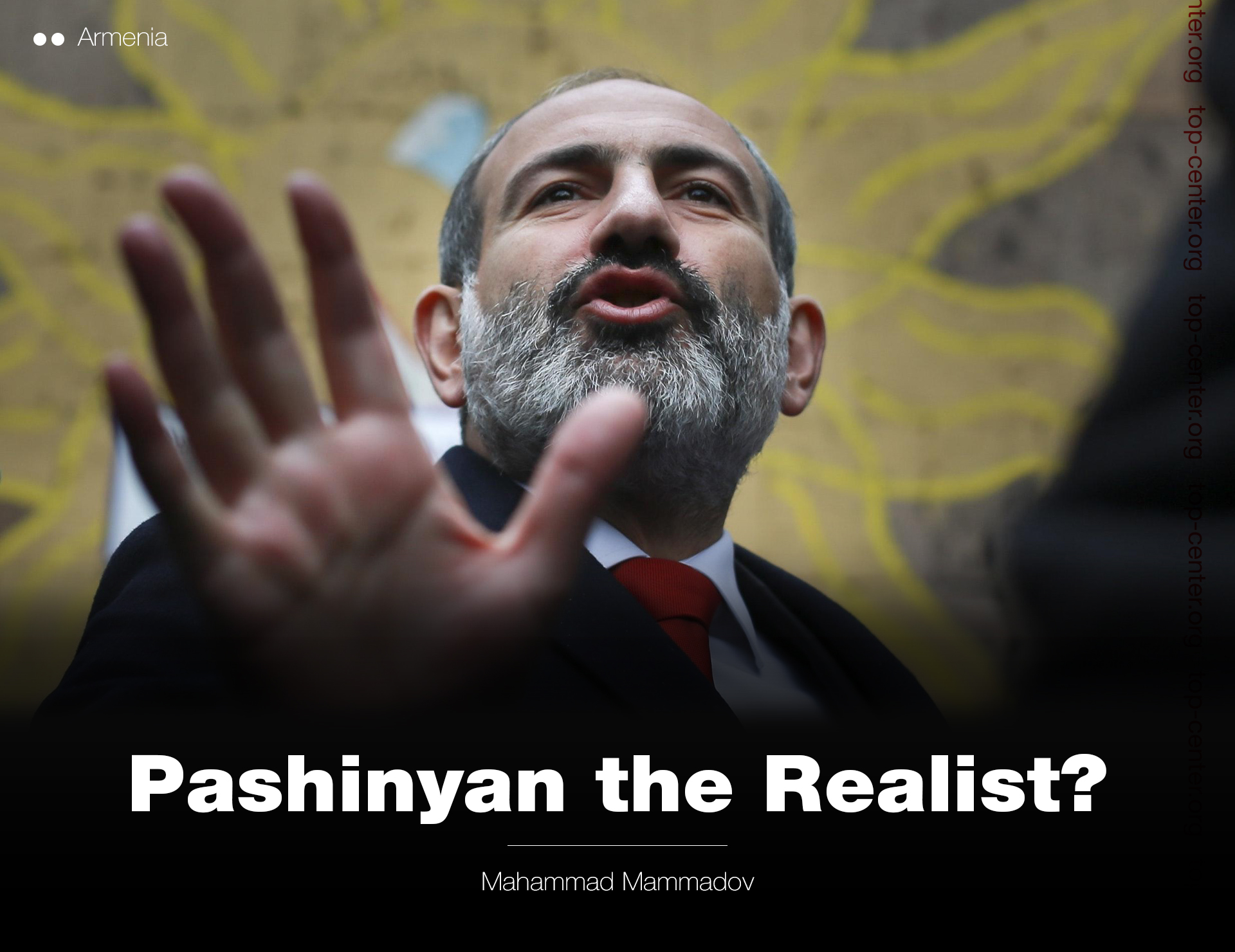 Armenian Prime Minister Nikol Pashinyan's address to the parliament on April 13, where he broached the idea of signing a peace agreement with Azerbaijan, reflected a significant shift in Armenian foreign policy away from making territorial claims against Azerbaijan to recognizing its territorial integrity with Karabakh as part of it. Accordingly, the Karabakh issue is no longer a matter of territory but of rights, hence an internal affair of Azerbaijan. Although Pashinyan's speech has so far been accepted as nothing but political naivety in some circles, it actually put forward a realist interpretation of Armenia's geopolitical positioning in the region in general and ongoing reconciliation with Azerbaijan in particular.
Pashinyan seems to understand the structural constraints Armenian foreign policy faces under current circumstances. More importantly, he knows well from his own experience that states pay dearly if they ignore changing power dynamics in their neighbourhood. In the period leading up to the Second Karabakh War, his government was threatening Azerbaijan with a new war for new territories or waging a diplomatic war against Turkey, a rising regional major power, while the West was AWOL from major geopolitical developments in the South Caucasus and Russia was in reactive mode to adapt its position to multiple events on different fronts from Belarus to Kyrgyzstan. The result was a humiliating defeat in Karabakh as Turkey openly supported Azerbaijan while Russia almost stood on the sidelines. Pashinyan confesses he just could not convince himself at that time that Armenia needed to make concessions to avoid the looming catastrophe, partly due to the local population's aversion to surrendering the fruits of victory in the First Karabakh War. It shows how domestic power dynamics contribute to the emergence of a distorted view of external pressures that might eventually put state survival under question.
After the 44-day war, Armenia found itself with the smallest share in the regional distribution of power. Today, it is economically more inferior to its main rivals in the region. Azerbaijan and Turkey still keep their borders closed, depriving the Armenian economy of significant benefits from access to alternative markets. Militarily, Yerevan has to go a long way to recover its capabilities degraded in the war with Azerbaijan. Pandemic and ongoing destabilisation of the global economy in the context of the Russian invasion of Ukraine limit the government's ability to extract or mobilise domestic resources to bolster its position in the regional security system. Furthermore, Armenia's dependence on Russia as an economic and security guarantor has reached unprecedented levels. Now that Russia is overstretching itself in Ukraine, Pashinyan has cause for concern about Moscow's future security commitments. When it comes to the EU, Brussels pressures Armenia to reach constructive peace with Azerbaijan. The April 6 trilateral meeting of the European Council President Charles Michel, Armenian Prime Minister Nikol Pashinyan, and Azerbaijani President Ilham Aliyev mostly embraced Baku's forward-looking approach to negotiations (no mention of the OSCE or Karabakh's status) with a specific emphasis on peace talks, sidelining Armenia's attempts to create alternative agenda.
Pashinyan's realism lies in seeing this mounting pressure and adapting Armenian foreign policy to the new realities on the ground. He sincerely believes that Armenia's lowering its benchmark on Karabakh's status a little could ensure greater international consolidation around itself and the de facto entity in Karabakh. It is actually a logical continuation of the Armenian nationalists' rebranding of the irredentist Miatsum (Unification) movement in the early 1990s into a fight for self-determination that helped them avoid international outrage and win over the liberals in the West. Similarly, shifting the focus from territorial issues to human rights now Pashinyan aims to garner international support for the Armenian cause in Karabakh. He also understands international criticism that "being the only country in the world that does not recognize the territorial integrity of Turkey's ally, Azerbaijan, is a great danger not only for Artsakh (Armenian name for Karabakh) but also for Armenia". What is striking is that Pashinyan does not say this because this policy line would bring immediate peace to the region but because he believes it would strengthen Yerevan's negotiating position vis-à-vis Baku and Ankara. He plays weak hand well, dealing with the world as it is, not as he wishes it were.
On the one hand, by accepting Azerbaijan's peace proposal with some additions, Pashinyan actually throws the ball to Baku's court, forcing the latter to come up with security guarantees for the Armenians living in Karabakh. Azerbaijani leadership refuses to discuss the status issue and currently, it does not have a roadmap to integrate the Armenian population into its jurisdiction. In the long term, it could lead to friction in Baku's relations with the EU and Russia. Although Brussels conforms to Azerbaijani discourse on Karabakh's status now, Pashinyan believes the EU will raise the issue in the future to pressure Azerbaijan into ensuring Armenians' safety and security under the framework of some kind of status. At the same time, Russia is interested in dealing with the peace treaty and status issues separately which would prolong its raison d'etre in the separatist region. Azerbaijan's forced integration attempts would put it on a collision course with the Russians who are highly invested in the idea of managed instability in Karabakh.
On the other hand, by agreeing to Azerbaijan's peace agenda, Pashinyan thinks Armenia can partially get rid of the Azerbaijani and Turkish blockade that hampered Armenia's economic potential in previous years. Demarcation of state borders under the auspices of intermediaries might help divert limited resources to other directions. Opening of transport corridors would confer access to alternative markets, leading to economic interdependence of sorts that could later spill over to other policy areas. Reconciliation with Azerbaijan would also positively contribute to the ongoing normalization of relations with Turkey. Pashinyan seems adamant in his belief that regarding its economic and military security, Armenia should not put all its eggs into the same basket (Russia), especially in the context of Russia's strategic blunder in Ukraine. He thinks Armenia should avoid becoming others' proxy against Azerbaijan and Turkey. Addressing the parliament, he said one of Armenia's main goals in the newly emerging world order is pursuing a balanced foreign policy.
However, if recent history is a guide, Pashinyan will find it remarkably difficult to mobilize domestic support to reach his goals in the external arena. Firstly, the majority of the Armenian population still rejects reconciliation with Azerbaijan in current circumstances. According to International Republican Institute poll conducted in December 2021, 81 percent of the Armenian population view Azerbaijan as a security threat. 35 percent of Armenians think that recognition of Karabakh as an independent state is an acceptable solution to the "conflict" while 34 percent see its future as part of Armenia. On the opening of transport routes, against 45 percent of respondents who think it will be definitely negative for the Armenian economy, only 5 percent say it will be definitely positive.
Secondly and relatedly, Pashinyan has to take into account the opposition's attempts to tap into the anti-reconciliation rhetoric among the population. Although the Kocharyan and Sargsyan-led opposition lack legitimacy to muster meaningful support to challenge Pashinyan's pro-peace agenda, in case they achieve part of their goals in this regard, Pashinyan may feel an urgent need to return to his "being more catholic than the pope" rhetoric, presenting himself as the ultimate guardian of Armenian interests in Karabakh. Notably, similar maneuvering in domestic politics in 2019-2020 led to one of the most destructive wars in the South Caucasus in September 2020.
Last but not the least, Pashinyan has to accommodate Russia's insistence on being a major peacemaker in the region. The EU's recent emergence as an alternative mediating pole to cajole Armenia and Azerbaijan into signing a peace agreement soon irritates Moscow and pushes her to wrest back control over the whole process by increasing pressure on both sides. Russia is interested in continuing uncertainty with regard to Karabakh's status and therefore, expects Armenia to play its part in the game. It should come as no surprise that after the Moscow visit on April 19, Pashinyan changed tack, saying there is no document to be signed on Karabakh's future at the moment.
Being stuck between rock and a hard place, Pashinyan tries to strike the right balance between domestic and external challenges to maximize Armenia's security in a geopolitically restrictive environment. Many will depend on his ability to find internal support to bring Yerevan out of regional isolation. It will have serious implications not only for Armenian security but also for peace and stability in the wider South Caucasus.