The Roots of Discontent: Breaking Down Iran's Rising Hostility Towards Azerbaijan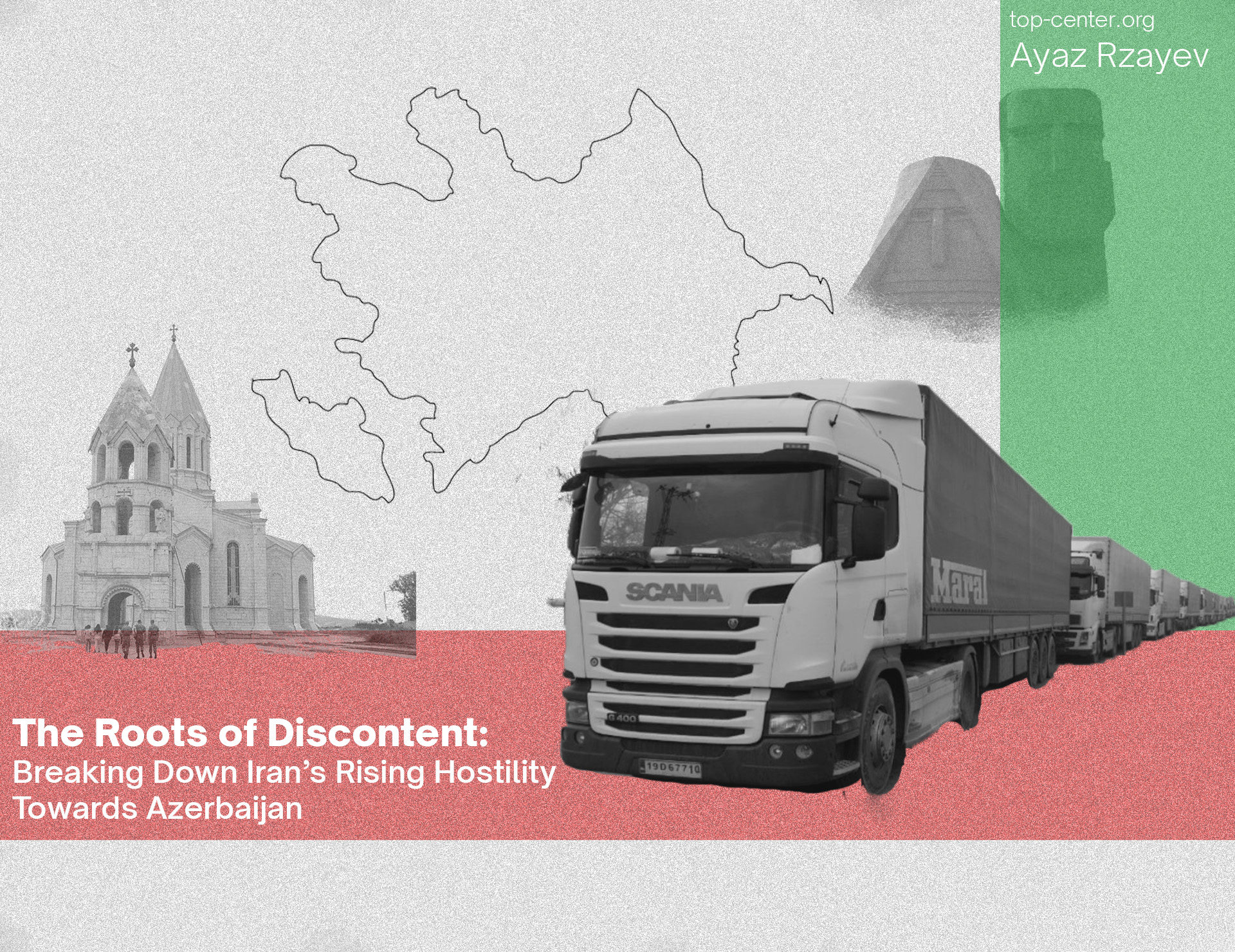 The brewing tensions in bilateral relations between Azerbaijan and Iran have reached a tipping point when Azerbaijani President Ilham Aliyev has described the sudden military maneuvers by Iran close to Azerbaijan's borders as "a surprise", in his interview with Turkey's Anadolu news agency on September 27. Noting that every country had the right to hold military drills on its own territory, President Ilham Aliyev pointed out that the question was "why now and why near our borders".
"Why no military exercises were held when Armenians were in Jabrayil, Zangilan and Fuzuli? Why is this happening after these lands have been liberated, after an end was put to 30 years of slavery and occupation? These are valid questions. We surely do not want any situation that could damage long-term cooperation in the region. I would like to reiterate that Azerbaijan here is acting very responsibly and carefully. I hope that emotional reactions to our legitimate steps were temporary", the Azerbaijani president wondered.
Commenting on the illegal entries of Iranian vehicles into Karabakh, the Azerbaijani president called for an end of violation of Azerbaijan's territorial integrity. Despite the fact that Azerbaijan had expressed multiple times its dissatisfaction with Iranian trucks delivering cargo into Karabakh through the posts of Russian peacekeepers, Iran did not heed to those warnings. Finally, a few weeks ago, Azerbaijan was forced to detain Iranian truck drivers illegally crossing into the Azerbaijani territories where Russian peacekeepers are stationed. Azerbaijan also started to collect fees from Iranian cargo trucks for using an Azerbaijani-controlled section of the road between the Armenian towns of Kapan and Goris. "This is not the first time that Iranian vehicles entered the Karabakh region illegally. Vehicles went there regularly during the occupation. We had news. But, of course, we did not have exact information as we have now," President Ilham Aliyev noted in his interview.
Taking this into account, we expressed our dissatisfaction with Iran through various channels. But this process remained unchanged. After the end of the war, the Lachin corridor is already in front of our eyes. The distance from our military positions to the road to Khankandi is probably 5-6 meters. We have sufficient technical capabilities along the Lachin corridor, around Shusha, and elsewhere. There are cameras. We use satellites and drones. We saw again that those vehicles continued to go there after the war. In this case, I instructed the staff of the Presidential Administration to talk to the Iranian ambassador to Azerbaijan.
the president added.
On September 28, commenting on the issues of military maneuvers on the borders, Iranian Foreign Ministry Spokesperson Saeed Khatibzadeh noted that it was a matter of sovereignty, adding that the Islamic Republic would not tolerate the presence of the "Zionist regime" around its borders and "would adopt any measures which it deems necessary for its national security".
The attempt by the Iranian Foreign Ministry Spokesperson to rationalize Iran's sudden provocative military moves on the borders with Azerbaijan by alluding to Israel is disingenuous and nothing more than a red herring. While Azerbaijan has a very close relationship with Israel, it has always been the official position of Azerbaijan that it will not allow for the third parties to use Azerbaijan's territory to attacks neighbors. Throughout the years, Baku has done everything in its power to mitigate Iran's various concerns about Azerbaijan, including its relationship with Israel. But the truth of the matter is that dealing with Iran and its deep-seated numerous insecurities is no small feat for any international actor, especially for Iran's neighbors. In this sense, Baku is not an exception because Tehran constantly expects Azerbaijan to prove a negative – that Baku is not trying to destroy Iran – which is virtually impossible.
All the elaborate geopolitical mumbo jumbo and desperate attempts at justifying Iran's unwarranted aggressiveness towards Azerbaijan in the last few weeks ignores the true cause of Tehran's frustration with the new status quo in the South Caucasus after the 44-Days War. At the heart of Iran's discontent is the sense that it is being rebuffed, and not only by Azerbaijan, but also, and perhaps more importantly, by Russia and Turkey. Iran is acting out because it feels ignored. Escalating with Moscow and Ankara could turn out very costly for Tehran, so aggressive rhetorical and military posturing against Azerbaijan is seen as a safe bet to secure a seat at the regional table of decision-making. And the problem is not that Azerbaijan was not paying attention to Iran after the war. Azerbaijan has tried to be as inclusive as possible with all regional actors since the 44-Day War ended. Just recently, on the sidelines of the UNGA conference in New York, the senior officials of Azerbaijan, Iran, and Turkey agreed to hold a meeting in Tehran to discuss various issues between the sides. The problem is that Iran feels that noticing their presence is not enough, other actors should give them as much attention as Iran deems appropriate and feels entitled to. It stems from a belief about the historical significance of Iran. Feeling ignored hurts their perceived sense of importance. In this sense, acting as enfant terribles is Iran's awkward way of saying that "we do count" and we expect to be noticed.
Iran gambled when they bet all their chips on Armenia before the war. The relations between Tehran and Yerevan always went beyond a traditional neighborhood relation between two countries, which was not lost on the Azerbaijani society either. Azerbaijan's swift victory in the war and subsequent radical changes in the region caught Iran by surprise. As a result, Tehran has been very slow to adjust to the post-war reality on the ground. To make matters worse, Iran's complex policymaking process has multiple stakeholders, featuring branches of the government, the Revolutionary Guards, and parastatal groups with no clear rules of engagement capable of acting as spoilers. And Azerbaijan, to a certain degree, has been very understanding of this and tried to help Iran to navigate this new reality. However, as times goes on, it becomes clear that Iran simply does not want to accept this new post-war reality in the region. Iran needs to understand that its irrational desire to keep the region the way it was before the war is a non-starter for Azerbaijan. Engineering tensions in the region just to send a signal may succeed in the short term, but in the long run, it will only hurt Iran. The Iranian government fails to realize the depth of resentment this kind of behavior creates in the Azerbaijani society. Before it is too late, Tehran should let go of emotional styles of decision-making in foreign policy and strive to become a predictable and constructive force in the region.