Russian Trojan Horse Inside the EU: Nord Stream 2 as a destructive tool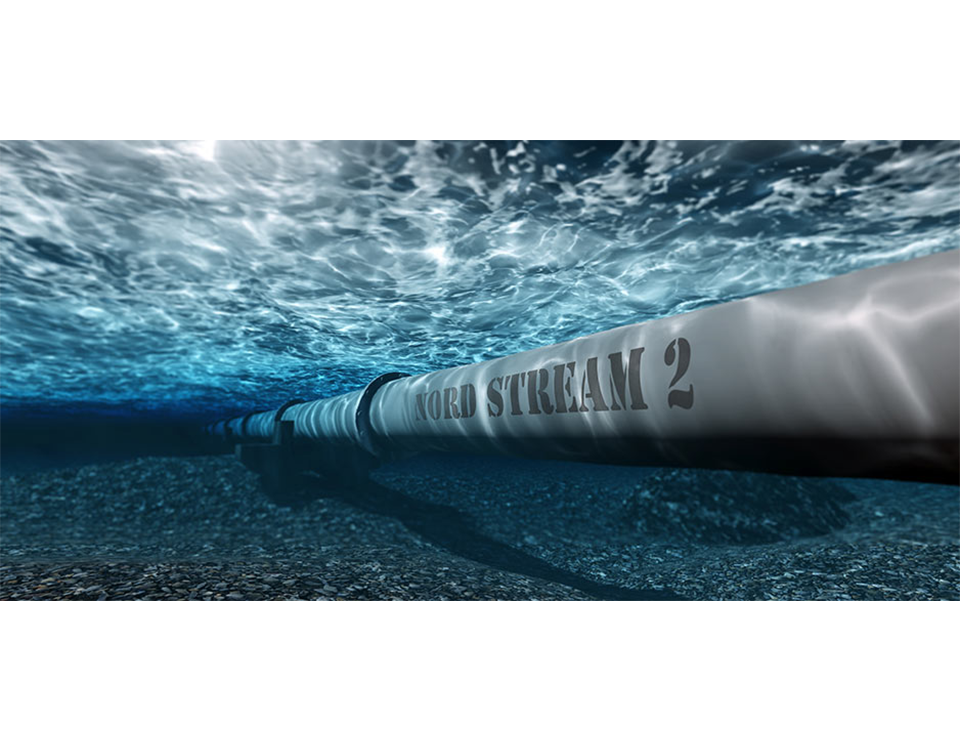 From its inception, the Nord Stream 2 project has been a controversial and divisive issue for the EU member states and the United States. The Nord Stream 2 is a natural gas pipeline designed to transport 55 billion cubic meters per year whose original announcement was briefly postponed after Russia's illegal annexation of Crimea and aggression in Eastern Ukraine; it was formally announced in mid-2015. Furthermore, the Gazprom-sponsored project is expected to double Nord Stream's existing capacity, transporting Russian gas directly to Germany via the Baltic Sea. On the report of Nord Stream 2 AG, the overall costs of the project is 9.5 billion euros.

Germany imported 35% of its gas from Russia, 34 percent from Norway, and 29 percent from the Netherlands in 2015. Proponents of the pipeline claim that decreasing gas production within the EU means that more fossil fuel import will be needed in the coming years, much of it from Russia. It would increase Germany's effectiveness as a transit country to supply the rest of the continent.

At a time when the EU has imposed economic sanctions over Crimea and denounced the Kremlin regarding Navalny's detention Russia aims to sell gas to Western Europe, by building parallel pipelines especially directly via Germany. This project will develop Kremlin's pressure on European countries and help it to dominate European energy market. The pipeline will threaten the EU's security by enhancing the bloc's dependence on Russia. Political confrontation over this project has increased over the years and raised serious questions on the EU's unity.

Same course, miscellaneous vision: Trump's unilateralist method versus Biden's isolationist method
The National Defense Authorization Act for 2021 recently adopted by the United States envisages the imposition of new sanctions on the North Stream 2 project. Following the entry into force of the law, the Norwegian risk management and quality assurance firm DNV GL announced its withdrawal from the project, refusing to issue a certificate of conformity for Nord Stream 2. It is impossible to start the pipeline without this type of certificate and the official Kremlin has to find a new company to finish the final phase and legalize the project. However, Nord Stream 2 AG declined to comment on the potential impact of DNG GL's decision by stating that it was not in a position to disclose commercial information. In December 2019, the Trump administration imposed sanctions against companies involved in the construction; yet, these sanctions did not influence companies directly.

Later the United States imposed new sanctions over the discrepant project and in January 2021, 16 of the 18 companies ended their participation prior to sanctions were imposed. Given that Biden is calling the project "bad deal" for Europe, his and Trump's approach toward Nord Stream 2 are not poles apart; yet he has not imposed any sanctions so far. By saying out loud "America is back" during the Munich Security Conference, Biden introduces himself as a reliable ally of Europe. After taking office, he commenced to stabilize U.S.-Europe relations that were damaged during Trump's tenure. From Biden's stand-point, new sanctions first have to be agreed with the EU countries and should not damage especially German-U.S. relations which sparked off (Trump called Germany "Russia-controlled") over the last years.

Unlike Trump's unilateralism, Biden shares challenging ideas toward the Russia-backed project in a reciprocal way with dissatisfied countries in Eastern Europe. Biden plans to strengthen cooperation with Poland, Ukraine and other countries in order to resist Nord Stream 2 and tries to isolate Germany by boosting a new platform in Europe against Berlin's will. On 24 February 2021, the Polish Foreign Minister and the U.S. Secretary of State had a telephone conversation discussing the ways to stop NG-2 from being realized. The new U.S. administration understands that unilateral actions taken without consultations with Europe weakens U.S.-EU sanctions regime to deter additional Kremlin aggression.

Germany's insistence and thriving polarization inside the EU
Nord Stream 2 will bypass Ukraine and be the major tool for transporting Russian gas to Germany, thus questioning German and EU standpoint toward relationship with Ukraine and other Eastern European countries. It also provokes notable tensions between the EU and the United States, leading into bargaining among Germany and Eastern European countries. A number of countries in Eastern Europe, such as Poland, Slovakia, and Ukraine object to Nord Stream 2 because of a loss of transit fees, as well as geopolitical and economic security considerations.

The Kremlin made several statements indicating that the major goal of this project together with TurkStream was to end or significantly diminish gas transit via Ukraine. It would undermine both the economic stability by losing transit gas fees and strategic stability of Ukraine given the removal of Russia's own reliance on the Ukrainian route which faces Russia's consistent aggression.

Geopolitically, Nord Stream 2 jeopardizes unity across Europe and causes political discomfort in Eastern European countries. The leaders of Czechia, Estonia, Hungary, Latvia, Lithuania, Poland, Slovakia and Romania that are highly dependent on Russian gas defied this project by signing a joint statement in 2016. This statement reignited a debate that has pitched dominant EU member Germany against central and eastern European nations.

In 2020, Poland referred to concerns over the EU's security, credibility and independence appealing to Germany to abandon the project. Poland imports most of the gas it consumes from Russia. Warsaw claims that after the activation of Nord Stream 2, the 94%-completed pipeline would strengthen Russian leverage over Europe. Moreover, in a recent resolution adopted in January 2021, the European Parliament has called "on the EU and its member states to critically review cooperation with Russia in various foreign policy platforms and on projects such as Nord Stream 2, the completion of which the EU must stop immediately". The Baltic states also oppose the controversial pipeline. In an interview with DW, Lithuanian President Gitanas Nauseda stated that "we should include the Nord Stream 2 project into the range of sanctions because this would be painful for the Russian regime."

Germany and the EU Commission did not reject the project as it did with the South Stream that would have benefited Italy's role as energy hub in the Mediterranean. By doing so, Rome was offended and called the EU commission "Germany-influenced".

U.S. sanctions legislation adopted in December 2019 stopped the construction of the pipeline by extending sanctions to pipe laying vessels. The time Nord Stream 2 will be completed and create a permanent alternative export route to the Ukrainian pipeline it would have resulted in Kyiv losing over $3 billion per year in transit costs. The agreement between Ukraine and Russia that covers terms for the transit of gas to Europe was crucial for Kyiv because until these sanctions Russia was not eager to renew a deal with this country to continue gas supply. However, in the same month with sanctions, Moscow and Kyiv signed a long-awaited renewal of the deal that covers the supply of Russian gas via Ukraine to Europe and this agreement will expire in 2024.
This is why tension appeared between Germany and Ukraine over Nord Stream 2 project. In April 2018, Chancellor Angela Merkel acknowledged concerns of the Ukrainian government and said the pipeline "is not just an economic project, and of course, political factors must also be taken into account." Simultaneously, the government has remained in favour of the project. Former German Chancellor Gerhard Schroeder who was a supporter of Nord Stream 1 while in office advocates for Nord Stream 2. However, German President Frank-Walter Steinmeier defended the pipeline by saying that fuel sales were "one of the last bridges between Russia and Europe". Moreover, Steinmeier justified Nord Stream 2 by stating that June will mark 80 years since the Nazis invaded the Soviet Union in which 20 million Soviet citizens were killed. This statement by the German president generated anger among Ukrainians and Kyiv officials, and instigated tension between sides. Ukraine's ambassador to Berlin Andriy Melnyk's reacted negatively as officials from Ukraine and many other European countries have grown increasingly frustrated with the German government's insistence. Melnyk stressed "questionable historical arguments" made by Steinmeier regarding the pipeline.

Germany should consider whether Russian actions can be more aggressive after the project is completed. After completion of pipelines Russia will diminish, even end dependence on Ukrainian and Polish transit routes which "Soyuz", "Yamal-Europe", "Yamal" and "Brotherhood" pipelines transits. The launch of the project will play into the hands of Russian offensive movements into the Ukrainian domestic policy by furthering and increasing political, economic aid to the so-called Donbass regime. It will also strengthen Russia's stance over the Crimea issue and may prove ineffectiveness of sanctions imposed by the EU and United States. It is important to note that the CEO of Nord Stream AG, former officer of the Stasi Matthias Warnig is a major player in Russian engagement in domestic policy. His name listed just a month ago in Navalny's recent widely viewed anti-corruption video as a key figure in Putin's orbit of strategic corruption. Launch of the pipeline will feed Russian "domestic empire" and can result in alteration of Russian focus from increasing domestic unrest to more aggressive policy toward Ukraine, as well as near abroad countries.

The commissioning of the Nord Stream 2 pipeline will have certain repercussions for European unity. After the launch of the project, Ukraine and Poland may be deprived of approximately 3 billion dollars annually. It will leave remaining troubles within countries' economic stability, as well as Ukrainian domestic and security policy will deteriorate against Russian interference and aggressive policy. In the upshot, growing dependence on Russian gas and cancelling or diminishing capacity of alternative routes for energy supply to EU countries will weaken EU's stand toward Russian assertive policy in the direction of Eastern Europe, as well as near abroad countries. Besides, it will also be questioning feasibility and suitability of the future EU-U.S. sanctions to halt and quash Russian offensive movements in the region, and negatively influence the EU-Ukraine negotiations on possible membership in the organization in the future. After Ukraine crisis in 2014, Germany and EU didn't take serious measurements to stop Russian interference into the European affairs by not keeping strong and united stance.

From Russian perspective "Near Abroad" countries, such as Armenia, Azerbaijan and some Central Asian countries might negatively reconsider their aspiration to develop bilateral relationship with the EU and the United States. Furthermore, it can give negative impulse to the integration process of these countries into the EU to find alternatives for Russian lever in the region or to refrain from Russia's possible offensive steps by creating new bloc in South Caucasus with the EU's assistance.
Conclusion
In a nutshell, Nord Stream 2 is a focal issue. The pipeline is now 94 percent completed with over $11.5 billion investment. American sanctions, as well as European and U.S. political opposition, may delay completion but hardly manage to stop it. Germany should reconsider its vision toward Nord Stream 2, since on one hand Germany and other EU countries invest a lot of money trying to help and stabilize Ukraine and on the other hand project undermines their efforts.
There are 3 possible scenarios for the future of the Russia-backed pipeline:
1. Germany will consistently ignore the pressure regarding the halt of controversial project in spite of negative implications for Europe and domestic politics of the Eastern Europe countries, especially Ukraine (a zero-sum game between the EU and the United States).
2. After negotiation between the EU and Germany and Germany and Russia, the Kremlin will take an obligation to extend deal with Ukraine regarding the use of the transit route consistently (more acceptable for the EU and Germany)
3. Under the pressure by opposition parties Berlin will cancel the project (extraordinary development).
References
1. National Defense Authorization Act for Fiscal Year 2021. Retrieved from www.congress.gov/bill/116th-
congress/house-bill/6395/text
2. Philipp Grüll (2021). US pressure drives 18 European companies away from Nord Stream 2. Retrieved from
https://www.euractiv.com/section/global-europe/news/us-pressure-drives-18-european-companies-away-from-
nord-stream-2/
3. Mateusz Kucharczyk (2021). Poland, US united against Nord Stream 2
4. Giovanna De Maio (2019). Nord Stream 2: A failed test for EU unity and trans-Atlantic coordination
5. DW (2021). Lithuanian president: EU needs 'clear strategy for relations with Russia. Retrieved from
www.dw.com/en/lithuanian-president-eu-needs-clear-strategy-for-relations-with-russia/a-56625449
6. EURACTIV (2021) - How to solve the Nord Stream 2 dilemma. Retrieved from
https://www.euractiv.com/section/global-europe/opinion/how-to-solve-the-nord-stream-2-dilemma/
7. Reuters (2019). Russia, Ukraine reach deal over gas transit to Europe. Retrieved from
www.reuters.com/article/us-russia-ukraine-gas-debt-idUSKBN1YO17H
8. DW (2021). Germany's Steinmeier angers Kyiv with his comments on Nord Stream, WWII. Retrieved from
www.dw.com/en/germanys-steinmeier-angers-kyiv-with-his-comments-on-nord-stream-wwii/a-56515956