Tokayev's Baku visit and growing Kazakhstan-Azerbaijan partnership in a destabilized neighborhood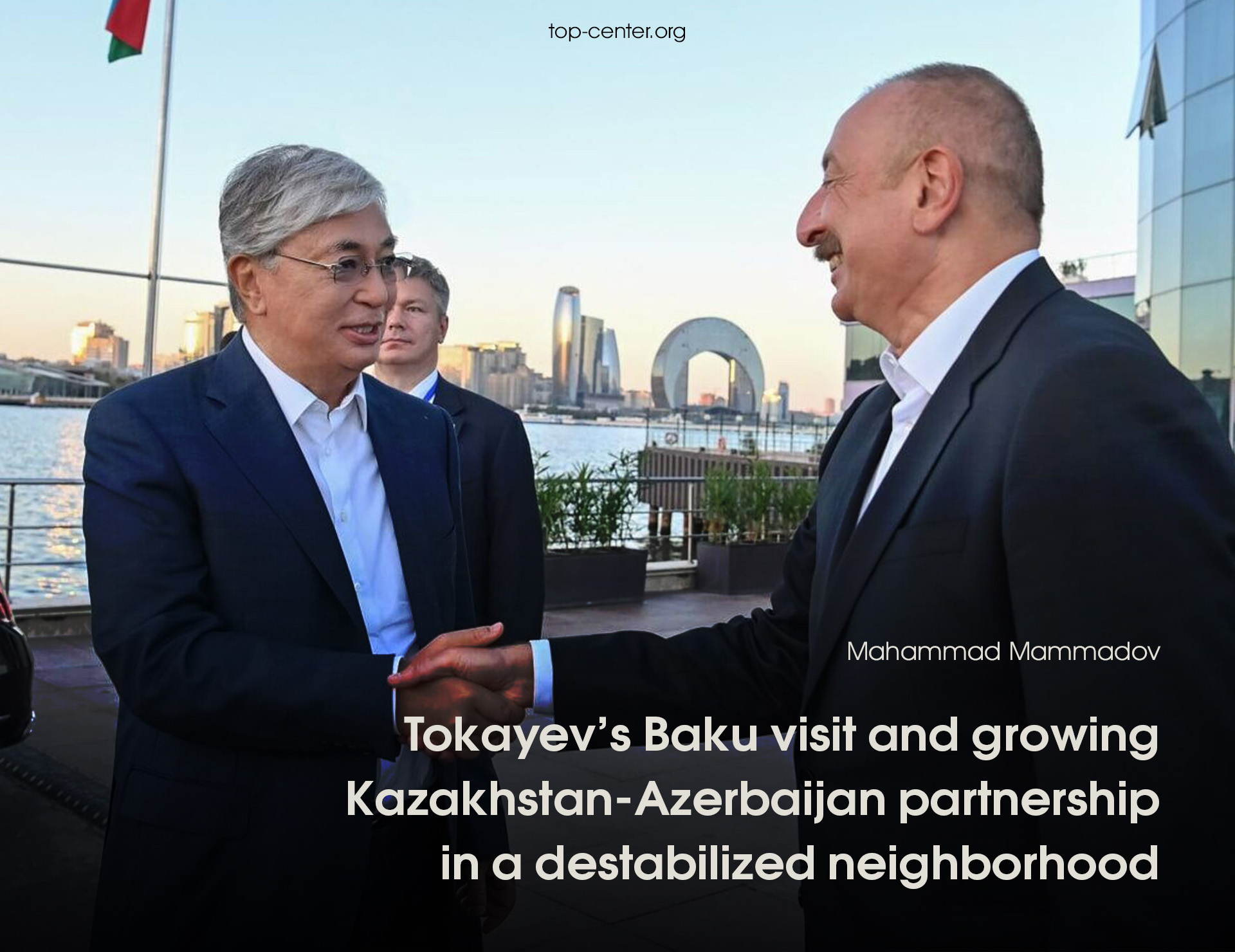 On August 24, Kazakhstan's President Kassym-Jomart Tokayev visited Baku. The timing of the visit was significant in the context of the 30th anniversary of bilateral relations and the growing strategic clout of both countries in regional and global affairs. In his meeting with President Ilham Aliyev, Mr. Tokayev said he had arrived in Baku with a mission - to raise Azerbaijan-Kazakhstan cooperation to a whole new level. Looking at the documents signed between the two sides, one can say the upgraded partnership will have serious implications for bilateral relations on the one hand, and regional cooperation on the other. Bilaterally, Azerbaijan and Kazakhstan will deepen cooperation in different sectors of the economy that will support their strategic diversification policies. Regionally, the two countries will further coordinate their steps to reach mutually beneficial results and safeguard national interests in an increasingly destabilized neighbourhood.
On the political level, the "Declaration on strengthening strategic relations between the Republic of Azerbaijan and Republic of Kazakhstan and deepening allied mutual activities" signed by presidents attests to mutual commitment to make better use of geopolitical opportunities and face common challenges in a cooperative way. For Kazakhstan, it is a significant follow-up to the Enhanced Strategic Partnership Agreement Mr. Tokayev signed with Turkish President Recep Tayyip Erdogan in May 2022. Both agreements further crystallize politico-military and socio-economic bonds between Azerbaijan, Turkey, and Kazakhstan, and serve Kazakhstan's multivector foreign policy in the emerging regional order dominated by China and Russia. Baku's growing role as an alternative transport route for Kazakhstani oil and grain exports to the global market after Russia's artificially created constraints around the CPC pipeline shed light on just one aspect of the importance of this cooperation. For Azerbaijan, a more comprehensive partnership agreement with Kazakhstan affords it greater access to Central Asia and the Turkic world, adding a new layer to its successful foreign policy diversification. Kazakhstan's support to Azerbaijan on the Karabakh issue is especially meaningful for Baku. In this context, Kazakhstan's participation in the reconstruction of liberated territories with the construction of the Center for the Development of Children's Creativity in Fuzuli city is highly appreciated in Azerbaijan as a gesture of brotherly support.
Economically, Azerbaijan and Kazakhstan signed more than 20 documents covering cooperation in different sectors. Expectedly, Middle Corridor featured high on the agenda as this transport project has the potential to alleviate the constraints emanating from Azerbaijan and Kazakhstan's landlocked position in the center of wider Eurasia. After the Western sanctions on Russia and the eventual destabilization of the Northern Route, the Middle Corridor emerged as the most reliable link between China and Europe. Azerbaijan and Kazakhstan's efforts to strengthen the soft and hard infrastructure potential of the route are part and parcel of the strategy to seize this momentum and establish themselves as valuable stakeholders in the East-West trade. With this in mind, Azerbaijan's Ministry of Digital Development and Transport signed a memorandum of understanding with Kazakhstan's Ministry of Industry and Infrastructure Development in the field of transit cargo transportation. At the same time, Azerbaijan's ADY Container signed a MOU with Kazakhstan's KTZ Express Hong Kong Limited on the smooth transit of cargo along the Middle Corridor. More importantly, economic agreements also included bilateral exchanges and opportunities for future investments. It means the two countries will not only cooperate on reaping the benefits of transit revenues but they are also invested in the creation of production facilities and supply chains that will better facilitate their integration into regional and global economic infrastructure. Surely, it will benefit domestic economies with the opening of new job opportunities and increasing living standards.
Taken together, Mr. Tokayev's official visit to Baku opened a new page in Kazakhstan-Azerbaijan relations both in political and economic terms. New regional realities necessitate closer cooperation between the two brotherly countries and this visit showed that state leaders have already started to expand bilateral partnerships to better adapt to these conditions.