Russia in Nagorno-Karabakh: Taking the poisoned pawn on the geopolitical chessboard?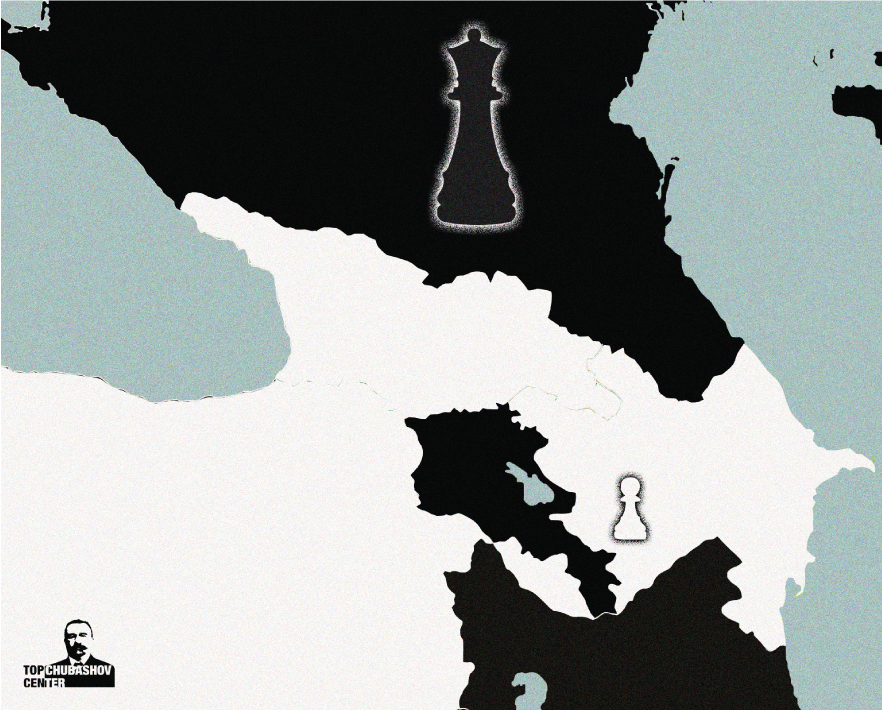 On 10 November 2020, Azerbaijani and Armenian leaders signed an eleventh-hour peace deal with the mediation of Russian President Vladimir Putin that ended the 44-day war in the Nagorno-Karabakh region of Azerbaijan and cemented Russia's military presence in yet another South Caucasian republic. With the deployment of about 2,000 Russian peacekeepers to the occupied territories for at least a five-year period Russia seems to be the ultimate winner of the war. As has been the case with the other ethnic conflict centers in the post-Soviet space, Russia may use this newly-gained leverage to influence foreign policy calculations of Yerevan and Baku in the future.
What caught some Russia-watchers off guard, however, was the Russian leadership's reserved stance from the first days of hostilities and hesitation to use its clout to bring the warring sides to the negotiation table once and for all. What was the strategic rationale behind the Russian reticence? Is Russia in retreat in the post-Soviet space or it just prefers to react pragmatically to maintain its dominant position by taking into account certain realities on the ground? In either case, one may argue that Russia was in a reactive mode in Nagorno-Karabakh (in Belarus and Kyrgyzstan as well) to keep its options open rather than proactively attempting to resuscitate its waning influence in the region.
That said, Russia's cautious reaction to Azerbaijani military operations in Nagorno-Karabakh and Turkey's overt support to Azerbaijan throughout the war was a watershed moment for Russia's otherwise ironclad commitment to defend a CSTO member state in time of an armed attack. Even if the Armenian territory never came under attack during all this time, not everyone was expecting Russia to keep its calm when its treaty-bound ally was badly defeated on the battlefield. As a result, while Armenia emerged from the war as a more Russia-dependent country, Azerbaijan and Turkey today view Russia as a partner to work with in a newly-emerging geopolitical landscape.
Change and Continuity
The way Russia handled the Azerbaijani-Armenian fighting and Turkey's active involvement, one may call it Russia's post-Ukraine moment where it works hard to avoid geopolitical improvisations and uses the instruments at hand in a more nuanced way. According to Dmitri Trenin, director of the Carnegie Moscow Center, Russia pursues a post-post-imperial foreign policy in its immediate neighborhood which envisions "embracing its loneliness as a chance to start looking after its own interests and needs, something it neglected in the past in the name of an ideological mission, geopolitical concerns, or one-sided commitments built on kinship or religious links". Fyodor Lukyanov, a Russian foreign policy analyst who advises Kremlin, characterized Russia's gentler conduct in Nagorno-Karabakh, Belarus, and Kyrgyzstan as a change of understanding in Russian geopolitical thinking which he dubbed "post-imperial transformation".
One may also detect a sign of continuity in the Russian reactions to the turmoil in the neighborhood. Firstly, and especially in the case of Nagorno-Karabakh, Russia was operating in a relatively permissive environment as the United States and the European Union stood reluctant and did not use any kind of leverage over the conflict sides to cajole them into signing a mutually acceptable peace agreement. The Western countries were mostly copacetic with the Russian unilateral peace enforcement and Russian-only format of the peacekeeping forces. Therefore, an argument that Russia was a passive hegemon misses a crucial point that its arch-rivals in the West somehow recognized its legitimate interests in the area and even hoped for its more active involvement.
Secondly, foreign policy ambiguities emanating from the "two multipolarities" approach seemed to be the case in Russian attitude toward Azerbaijani and Turkish assertiveness in the region. On the one hand, the Kremlin aspires to build a multipolar world order by joining efforts with non-Western regional powers. In this context, it is ready to concede Turkish encroachment in the South Caucasus or Chinese inroads into Central Asia as these kinds of intrusions do not pose a grave danger the way the Western expansions do. Thus, Turkey's military presence in Azerbaijan and the construction of a railroad line between Turkey and Azerbaijan through Armenian territory will not be seen as a threat to fight against but rather a challenge to be dealt with in the near future.
On the other hand, paradoxically, Russia is bent on keeping its sole pole status in the post-Soviet space through integration projects such as the Eurasian Economic Union and the Collective Security Treaty Organization. Russia is aware of the fact that these organizations exist mostly on paper and do not offer a credible alternative to the Western integration models. However, it does not mean that Russia will not use them as a multilateral platform to bolster its post-imperial hegemony in the region. In this regard, Azerbaijan has been one of the most important targets for Russia in recent years. Before the second war in Nagorno-Karabakh, the Azerbaijani elite could even consider membership in Russia-led economic frameworks as a possible compromise if Russia supported Azerbaijan's cause in the conflict resolution process. After the war we saw a totally different picture in the Russia-Azerbaijan-Armenia triangle: there are Russian peacekeepers in Nagorno-Karabakh and Russia seems to be in a better position to use that leverage to compel Azerbaijan to join the EAEU. But Azerbaijan has a more confident Turkish backing this time and the Aliyev government may not be interested in bowing to Russian pressure in order to regain the remaining parts of occupied territories in Nagorno-Karabakh in the short term. Azerbaijan may instead opt for observer status in the EAEU as Moldova and Uzbekistan did in 2017 and 2020, respectively.
Poisoned pawn?
In the game of chess, a poisoned pawn is a piece that can be won freely by the attacking side and increase the complexity of the game in the next moves. Speaking in analogical terms, the Russian move in Nagorno-Karabakh bore a resemblance to taking the poisoned pawn on a chessboard in some specific ways. Most importantly, poisoned pawns come with strings attached, and Russia in Nagorno-Karabakh will face a difficult task in satisfying the conflicting interests of Armenia (strategic ally) and Azerbaijan (strategic partner) at the same time.
The 10 November agreement contains quite many blurry lines that might pave the way for misunderstandings for all sides. It should come as no surprise that smaller-scale skirmishes still take place in and around Nagorno-Karabakh and on the Armenia-Azerbaijan state borders. Any damage to Russia's image as a neutral arbiter will surely trigger an anti-colonial backlash against the Russian bias. It is especially the case in Azerbaijan where a significant part of the population views Russian boots on the ground as the major constraint on Azerbaijan's restoration of full sovereignty within its internationally recognized borders.
On the governmental level, Azerbaijan has already started to question the activities of the Russian peacekeepers. President Aliyev criticized them for allowing French parliamentarians and Armenian officials to visit the region without Baku's permission. It is to be noted that Azerbaijani leadership from time to time used remarkably harsh rhetoric against the Russian support to Armenia during the last war. On 26 October, Azerbaijani President, hinting at Russia's possible military intervention to prevent Armenia's total defeat, threatened to use Turkish F16s based in Ganja airport. It was a kind of a balancing move one rarely sees in the post-Soviet space. Toward the end of the war, President Aliyev repeatedly lamented third parties' (Russia's) free-of-charge weapon supplies to Armenia and called on Armenia's supporters that the Azerbaijani nation won't forget about it after the war ended.
On the international level, Turkey will pose the greatest challenge to Russian standing in the South Caucasus. Nagorno-Karabakh is expected to be part of the already tense geopolitical tug of war from Ukraine to Libya. At the same time, Russia may face a more committed United States under the presidency of Joe Biden that would decrease her margin of error in the neighborhood. Taken together, volatile situation in Nagorno-Karabakh may anytime divert Russia's attention and resources away from more vital issues in the Middle East or Eastern Europe and put Russia in a positional disadvantage vis-à-vis her peer competitors.
All in all, it will be a complex game and time will show whether the Russian move in Nagorno-Karabakh was a geopolitical blunder or a better preparation for a successful endgame.